I received this book for free from the publisher in exchange for an honest review. This does not affect my opinion of the book or the content of my review.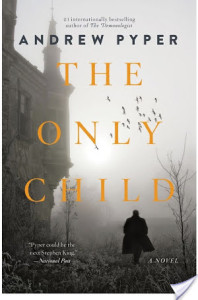 The Only Child by Andrew Pyper
Also by this author: The Damned
Published by Simon and Schuster on May 23, 2017
Genres: Fiction, Horror, Literary, Thrillers
Pages: 304
Format: eARC
Source: the publisher

Dr. Lilly Dominick, a forensic psychiatrist, has seen her fair share of unusual cases. During her career, she has been asked to evaluate some of the country's most dangerous psychotics.

The case today, however, stands out from the rest. This man has been accused of the most horrid of crimes. Worse, there seems to be no motivation for the brutal attack.  He claims to have no name...and admits to committing this crime so he can meet Lilly.  The strange claims don't end there.  At over two centuries old, he claims to be the inspiration for the works of Mary Shelley, Robert Louis Stevenson, and Bram Stoker.  Finally, the most unbelievable of claims: he reports that he is Lilly's father.

Putting everything on hold, risking her own life and career, Lilly pursue this monster in an attempt to answer questions that have riddled her mind all these years.
Don't you love it when you discover a book that so perfectly matches your need at the moment? This book most certainly did for me.  It's dark, it's chilling; the cover serves as the perfect sneak peek into what you'll experience inside.  Lilly is the perfect horror protagonist; you'll be screaming for her to run away from the horror but instead she's running toward it, headstrong.
I thought it to be a brilliant nod to the classic horror greats, while adding some modern twists and a unique spin on the vampire lore.  I devoured (pun intended) this one, reading at every moment I had the time.  Andrew Pyper is a horror great, an author whose work you should sample if you haven't had the chance already.  Highly, highly recommended.