It's time to wrap up my most anticipated books of June series!  What a list so far, right? You can check out Part I and Part II as well! Following are the books publishing the last few weeks of June!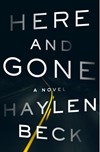 Here and Gone by Haylen Beck (June 20):

A compelling, impossible-to-put-down thriller about a mother's desperate fight to recover her stolen children from corrupt authorities, sure to appeal to readers of The Widow and Defending Jacob

Here and Gone is a gripping, wonderfully tense suspense thriller. It begins with a mother fleeing through Arizona with her kids in tow, trying to escape an abusive marriage. When she's pulled over by an unsettling local sheriff, things soon go awry and she is taken into custody. Only when she gets to the station, her kids are gone. And then the cops start saying they never saw any kids with her, that if they're gone than she must have done something to them. Meanwhile, halfway across the country, a man hears the frenzied news reports about the missing kids, which are eerily similar to events in his own past. As the clock ticks down on the search for the lost children, he too is drawn into the desperate fight for their return.

Ok, if that summary doesn't grab you, this detail might: Haylen Beck is a pseudonym of a well-known, award winning crime fiction author. Color me intrigued!
The Underground River by Martha Conway (June 20):

Set aboard a nineteenth century riverboat theater, this is the moving, page-turning story of a charmingly frank and naive seamstress who is blackmailed into saving runaways on the Underground Railroad, jeopardizing her freedom, her livelihood, and a new love.

It's 1838, and May Bedloe works as a seamstress for her cousin, the famous actress Comfort Vertue—until their steamboat sinks on the Ohio River. Though they both survive, both must find new employment. Comfort is hired to give lectures by noted abolitionist, Flora Howard, and May finds work on a small flatboat, Hugo and Helena's Floating Theatre, as it cruises the border between the northern states and the southern slave-holding states.

May becomes indispensable to Hugo and his troupe, and all goes well until she sees her cousin again. Comfort and Mrs. Howard are also traveling down the Ohio River, speaking out against slavery at the many riverside towns. May owes Mrs. Howard a debt she cannot repay, and Mrs. Howard uses the opportunity to enlist May in her network of shadowy characters who ferry babies given up by their slave mothers across the river to freedom. Lying has never come easy to May, but now she is compelled to break the law, deceive all her new-found friends, and deflect the rising suspicions of Dr. Early who captures runaways and sells them back to their southern masters.

As May's secrets become more tangled and harder to keep, the Floating Theatre readies for its biggest performance yet. May's predicament could mean doom for all her friends on board, including her beloved Hugo, unless she can figure out a way to trap those who know her best.

Quite the intriguing premise, yes? I was first introduced to this author's work through her book Whistling Past the Graveyard. I'm very interested to read this most recent title!
The Sisters Chase by Sarah Healy (June 27):

A gripping novel about two sisters who are left homeless by their mother's death and the lengths the fierce older sister will go to protect her beloved young charge.

The hardscrabble Chase women—Mary, Hannah, and their mother Diane—have been eking out a living running a tiny seaside motel that has been in the family for generations, inviting trouble into their lives for just as long. Eighteen-year-old Mary Chase is a force of nature: passionate, beautiful, and free-spirited. Her much younger sister, Hannah, whom Mary affectionately calls "Bunny," is imaginative, her head full of the stories of princesses and adventures that Mary tells to give her a safe emotional place in the middle of their troubled world.

But when Diane dies in a car accident, Mary discovers the motel is worth less than the back taxes they owe. With few options, Mary's finely tuned instincts for survival kick in. As the sisters begin a cross-country journey in search of a better life, she will stop at nothing to protect Hannah. But Mary wants to protect herself, too, for the secrets she promised she would never tell—but now may be forced to reveal—hold the weight of unbearable loss. Vivid and suspenseful, The Sisters Chase is a whirlwind page-turner about the extreme lengths one family will go to find—and hold onto—love.

I've heard quite a bit of buzz about this one. You know me and family secrets. Mention that and I'm sold!

The Confusion of Languages by Siobhan Fallon (June 27):

I'll just read a little bit, I tell myself. And really, why shouldn't I?

Both Cassie Hugo and Margaret Brickshaw dutifully followed their soldier husbands to the US Embassy in Jordan, but that's about all the women have in common. After two years, Cassie's an expert on the rules of the Middle East. For newly arrived Margaret, the move is a chance to see the world and explore. Against the odds the two strike up a friendship, until their husbands deploy and Cassie senses her new friend pulling away.

So when a fender-bender supposedly sends Margaret to the local police station, Cassie remains alone in the Brickshaw apartment to watch over Margaret's toddler son. But with Margaret missing for hours Cassie becomes bored and soon frustrated, tired of being left behind while Margaret adventures. Then she discovers her friend's journal. Where could Margaret be? Could her diary reveal the secrets that have come between them?

Written with stunning prose and powerful emotional insight, here is a story of two unforgettable women and the choices each will make in friendship, in marriage, and in love. The Confusion of Languages offers a poignant glimpse into the private lives of husbands, wives, and American military families living overseas.

I first discovered Siobhan's work after the release of her previous title You Know When the Men Are Gone.  She's a truly talented writer, capturing the essence of military family life that many of us are ignorant to, giving a voice to a demographic that often goes unnoticed. 
Modern Gods by Nick Laird (June 27):

An award-winning author who writes with "a wonderfully original and limber voice" (The New York Times)—a powerful, thought-provoking novel about two sisters who must reclaim themselves after their lives are dramatically upended

Alison Donnelly has suffered for love. Still stuck in the small Northern Irish town where she was born, working for her father's real estate agency, she hopes to pick up the pieces and get her life back together. Her sister Liz, a fiercely independent college professor who lives in New York City, is about to return to Ulster for Alison's second wedding, before heading to an island off the coast of Papua New Guinea to make a TV show about the world's newest religion.

Both sisters' lives are about to be shaken apart. Alison wakes up the day after her wedding to find that her new husband has a past neither of them can escape. In a rainforest on the other side of the planet, Liz finds herself becoming increasingly entangled in the eerie, charged world of Belef, the subject of her show, a charismatic middle-aged woman who is the leader of a cargo cult.

As Modern Gods ingeniously interweaves the stories of Liz and Alison, it becomes clear that both sisters must learn how to negotiate with the past, with the sins of fanaticism, and decide just what the living owe to the dead. Laird's brave, innovative novel charts the intimacies and disappointments of a family trying to hold itself together, and the repercussions of history and faith.

I don't quite recall how I came across this one, but so many aspects of it sound so fascinating to me: secret pasts, cults.  Hello, this sounds pretty amazing.
The Child by Fiona Barton (June 27):

As an old house is demolished in a gentrifying section of London, a workman discovers a tiny skeleton, buried for years. For journalist Kate Waters, it's a story that deserves attention. She cobbles together a piece for her newspaper, but she's at a loss for answers. As Kate investigates, she unearths connections to a crime that rocked the city decades earlier. A newborn baby was stolen from the maternity ward in a local hospital and was never found.

But there is more to the story, and Kate is drawn—house by house—into the pasts of the people who once lived in this neighborhood that has given up its greatest mystery. And she soon finds herself the keeper of unexpected secrets that erupt in the lives of three women—and torn between what she can and cannot tell…

If you are a fan of psychological thrillers and haven't read Barton's work, you are missing out. I devoured her previous book The Widow.  So chilling, in the best of ways!
There you have it! This concludes my most-anticipated books of June! Did I miss out on any?