It seems that life has once again taken over my reading time. I'm hoping to rectify that shortly.  That said, my crazy schedule hasn't stopped me from keeping an eye out for upcoming titles that have caught my attention!
Following are those titles releasing the first week in June that I can't wait to read.  I'm hoping by announcing them a few weeks in advance you can pre-order or get a hold in at the library!
You'll Never Know, Dear by Hallie Ephron (June 6): 

Seven-year-old Lissie Steger and her four-year-old sister Janey were playing with their porcelain dolls in the front yard when an adorable puppy scampered by. Eager to pet the pretty dog, Lissie chased after the pup as it ran down the street. When she returned to the yard, Janey's precious doll was gone . . . and so was Janey.

Forty years after Janey went missing, Lissie—now a mother with a college-age daughter of her own—still blames herself for what happened. Every year on the anniversary of her sister's disappearance, their mother, Miss Sorrel, places a classified ad in the local paper with a picture of the toy Janey had with her that day—a one-of-a-kind porcelain doll—offering a generous cash reward for its return. For years, there's been no response. But this year, the doll came home.

It is the first clue in a decades-old mystery that is about to turn into something far more sinister—endangering Lissie and the lives of her mother and daughter as well. Someone knows the truth about what happened all those years ago, and is desperate to keep it hidden.

This sounds just chilling enough to capture my attention, despite all the distractions life brings!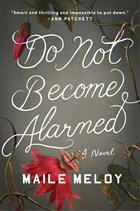 Do Not Become Alarmed by Maile Meloy (June 6):

When Liv and Nora decide to take their families on a holiday cruise, everyone is thrilled. The ship's comforts and possibilities seem infinite. The children—two eleven-year-olds, an eight-year-old, and a six-year-old—love the nonstop buffet and the independence they have at the Kids' Club. But when they all go ashore in beautiful Central America, a series of minor misfortunes leads the families farther and farther from the ship's safety. One minute the children are there, and the next they're gone.

What follows is a riveting, revealing story told from the perspectives of the adults and the children, as the once-happy parents—now turning on one another and blaming themselves—try to recover their children and their lives.

Celebrated for her ability to write vivid, spare, moving fiction, Maile Meloy shows how quickly the life we count on can fall away, and how a crisis changes everyone's priorities. The fast-paced, gripping plot of Do Not Become Alarmed carries with it an insightful, provocative examination of privilege, race, guilt, envy, the dilemmas of modern parenthood, and the challenge of living up to our own expectations.

I'm kind of on the fence about this one; typically I shy away from books involving child abductions (gulp).  Yet, something about this one is drawing me to it!
Grief Cottage by Gail Godwin (June 6): 

After his mother's death, eleven-year-old Marcus is sent to live on a small South Carolina island with his great aunt, a reclusive painter with a haunted past. Aunt Charlotte, otherwise a woman of few words, points out a ruined cottage, telling Marcus she had visited it regularly after she'd moved there thirty years ago because it matched the ruin of her own life. Eventually she was inspired to take up painting so she could capture its utter desolation.
The islanders call it "Grief Cottage," because a boy and his parents disappeared from it during a hurricane fifty years before. Their bodies were never found and the cottage has stood empty ever since. During his lonely hours while Aunt Charlotte is in her studio painting and keeping her demons at bay, Marcus visits the cottage daily, building up his courage by coming ever closer, even after the ghost of the boy who died seems to reveal himself. Full of curiosity and open to the unfamiliar and uncanny given the recent upending of his life, he courts the ghost boy, never certain whether the ghost is friendly or follows some sinister agenda.

Grief Cottage is the best sort of ghost story, but it is far more than that—an investigation of grief, remorse, and the memories that haunt us. The power and beauty of this artful novel wash over the reader like the waves on a South Carolina beach.

Everything about this book is calling to me! The premise, the cover. Oooh, I must read this one!
The Gypsy Moth Summer by Julia Fierro (June 6):

It is the summer of 1992 and a gypsy moth invasion blankets Avalon Island, an islet off the coast of Long Island. Leslie Day Marshall—only daughter of Avalon's most prominent family—returns to live in "The Castle," the island's grandest estate. Leslie's husband Jules is African-American, and their children biracial, and islanders from both sides of the tracks form fast and dangerous opinions about the new arrivals.

Maddie Pencott LaRosa straddles those tracks: a teen queen with roots in the tony precincts of East Avalon and the crowded working class corner of West Avalon, home to Grudder Aviation factory, the island's bread-and-butter. Maddie falls in love with Brooks, Leslie's and Jules' son, and that love feels as urgent to Maddie as the questions about the new and deadly cancers showing up across the island.

Vivid with young lovers, gangs of anxious outsiders; a plotting aged matriarch, a demented military patriarch; and a troubled young boy, The Gypsy Moth Summer is about love, gaps in understanding, and the struggle to connect: within families; among friends; between neighbors and entire generations.

I'm dying to read this!! I adored Fierro's previous title, Cutting Teeth and cannot wait to get my hands on this one!
That covers the first week of June! Come back for more June releases!