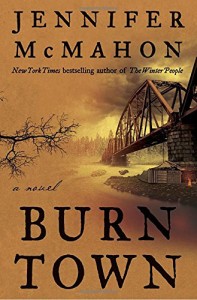 Burntown by Jennifer McMahon
Also by this author: The Night Sister
Published by Knopf Doubleday Publishing Group on April 25, 2017
Genres: Coming of Age, Fiction, Mystery & Detective, Suspense, Thrillers
Pages: 304
Format: eARC

Ashford, Vermont was once a booming industrial town. Now, riddled with shells of abandoned mills and factories, it has been nicknamed "Burn Town."

Eva Sandeski, now known as Necco, was once part of a typical family.  That was all destroyed when her father, a respected professor, drowned in a flood. Miles was also known to tinker with elaborate machines; it was rumored that he had created one that allowed you to speak with the dead.  This machine, drawn from plans said to be stolen from Thomas Edison's workshop, may have been the true impetus for his death and the destruction of the Sandeski family.

When Necco's boyfriend is murdered, she worries that the past is coming back to haunt her.  Her grief-struck mother warned her of a man called "Snake Eyes," the very man who she believes is responsible for Miles' death.  With the aid of Theo, a high schooler caught up in the drug world and Pru, a cafeteria worker with a secret life of her own, the misfit trio help Necco get the answers she needs to tame the beasts that rage from her past and finally uncover the identity of the man who has haunted her all this time.
Jennifer McMahon is one of my "go to" authors.  Each time she publishes a new book, it's a given that I'm going to read it as soon as I can get my hands on it.
This most recent title is a bit of a departure from her previous titles. It certainly has more of a supernatural feel to it than her previous titles, but the one constant that remains is a young, strong, female protagonist who is forced to undergo a journey of self-discovery.
The cast of characters is quite quirky; Necco herself is part of a group of women who are called "fire eaters."  Add the supernatural element and this feels remarkably like an episode of "Strange Things." Don't let the strangeness turn you away, this was certainly a quick and addictive read!  Highly recommended.