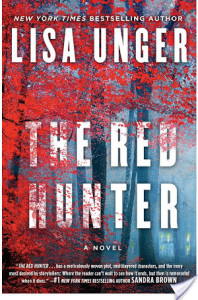 The Red Hunter by Lisa Unger
Also by this author: Crazy Love You
Published by Simon and Schuster on April 25, 2017
Genres: Fiction, General, Mystery & Detective, Suspense, Thrillers
Pages: 368
Format: eARC

It's been nearly two decades since the attack that shattered Claudia Bishop life and marriage.  Now divorced, she and her teen daughter have fled the city and have moved in to a crumbling old house she inherited.  Claudia hosts a home restoration blog, where she also shares details of her life since the attack.  Little did she know that the very home she will help restore her sense of safety and security has a dark and deadly history.

Zoey Drake's life-altering moment was the murder of her father and mother in her childhood home.  Zoey didn't go unscathed, she was horrifically tortured before being rescued.  Rather than succumbing to her pain, she's spent the last decade training in marital arts, preparing herself for the moment when she confronts those who destroyed her life.

Two women, very different backgrounds, their lives converging.  The very house that Claudia hopes will be her salvation was the source of Zoey's pain and grief.
This is one of those books that is so intense, so captivating, that you'll want to read it in one sitting.   The author has crafted two incredibly unique and well-fleshed out characters, both having survived individual attacks that have forever altered their worlds.  What is different is how that one act has changed their lives forever.  In Claudia's case, her attacker was apprehended and has since died, Zoey is still trying to uncover buried secrets regarding her family's attack.  Claudia has a constant reminder of her attack, and uses her blog as a method of healing, whereas Zoey becomes a vigilante of sorts.  A question that resonates throughout this novel is the difference between justice and revenge.
Without sounding cliche, this is the type of book that will make you lose track of space and time; Never is there a resting moment, the intensity carries throughout the entirety of the book.  While I thought I'd figured it out several times throughout my read, I was completely stumped and ultimately shocked at the end.  This is a true test to Unger's writing brilliance! Highly recommended.