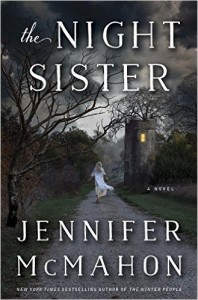 The Night Sister by Jennifer McMahon
Also by this author: Burntown
Published by Doubleday Books on August 4, 2015
Genres: Supernatural
Pages: 336
Format: Hardcover

Amy, Piper, and Piper's younger sister, Margot, used to be the closest of friends.  They spent their days playing on the grounds of the once-thriving Tower Motel.  When they discover a family secret on one of the abandoned rooms, however, their friendship abruptly ends.

Decades later, the Tower Motel is a skeleton of what it used to be.  The trio are now adults, leading their own lives. While Piper and Amy stay in touch, their relationship is forever altered. When Piper receives a late night call from Margot, now expecting her first child, she returns home to the haunted and twisted past of the Tower Motel.  Amy has been accused of a horrific crime.  The only way to clear her name is for Piper and Margot to return to the grounds of the Tower Motel and find answers to unanswered questions in Amy's family's past. In doing so, the uncover the story of Sylvie and Rose, two sisters who lived at the motel at its prime.  What they uncover is a secret the family intended to keep hidden, yet if they don't reveal the truth it will haunt and terrify generations to come.
I'm not exaggerating when I say I've read everything McMahon has published. The moment I hear she's working on a novel I sit and wait, impatiently, for the moment it hits my hands.  This novel is no exception.  McMahon's talent is crafting dark and chilling stories in which a child, typically a young girl, is at the forefront.  She captures the essence, the naivety, the curiosity of these girls so expertly, that it's easy for the reader to become invested in the story, the characters and their fate.
Each time I read one of McMahon's novels, I swear it's my favorite, the best of them all.  Now, when I state that about this most recent novel, I can state with no uncertainty that I know it to be true. McMahon gets to the core of the dark and creepy, right up my alley, right?  In this novel, however, she absolutely terrified me. Something about creepy young children and I'm running around the house, turning on the lights & locking all the doors. I was terrified…and it was wonderful! The novel took on a completely different spin, taking me for surprise. Just when I thought it was heading in one direction, I was abruptly detoured into another direction. Not once, but multiple times. I read a lot of mystery and thrillers. I'm quite good at detecting what is to come. So when an author is able to surprise me with a sudden revelation or tangent, I applaud them. It takes a lot to do this, to hold this "thing" so close to you, only revealing it when the time is right, with no hints or warning.
And the cover! Oh, how I love this cover.  I wasn't a fan of the covers of McMahon's previous novels; I'd much rather craft the image and identity of the main character in my own mind, rather than it be determined for me. But this one, the foreboding background, the young woman running toward the dark tower…it was perfect. I think it truly captured the tone of the novel, calling out to and warning the reader of what is to come.
Bottom line: I adored this novel. A must read for fan's of McMahon's previous work, or new readers interested in a unique supernatural thriller.  Highly, highly recommended.
Check out my reviews of McMahon's other titles:
Promise Not to Tell
Dismantled
Don't Breathe a Word
The One I Left Behind
The Winter People