Yesterday, I shared the first part of my post anticipated books of April, those publishing the first two weeks of the month.  Today, we'll close out this list by sharing those titles published the last half of the month!
Like yesterday, I'm sharing the title, publisher's summary, and a quick blurb about why I'm excited about that title!
Ararat by Christopher Golden (April 18):

When a newly engaged couple climbs Mount Ararat in Turkey, an avalanche forces them to seek shelter inside a massive cave uncovered by the snow fall. The cave is actually an ancient, buried ship that many quickly come to believe is really Noah's Ark. When a team of scholars, archaeologists, and filmmakers make it inside the ark for the first time, they discover an elaborate coffin in its recesses. The artifact tempts their professional curiosity; so they break it open. Inside, they find an ugly, misshapen cadaver—not the holy man that they expected, a hideous creature with horns. A massive blizzard blows in, trapping them in that cave thousands of meters up the side of a remote mountain…but they are not alone.

I read and was completely spooked by Golden's previous title, Snowblind. He has a thing for cold, terrifying reads, it seems!
The Last Neanderthal by Claire Cameron (April 25): 

40,000 years in the past, the last family of Neanderthals roams the earth. After a crushingly hard winter, their numbers are low, but Girl, the oldest daughter, is just coming of age and her family is determined to travel to the annualmeeting place and find her a mate.

But the unforgiving landscape takes its toll, and Girl is left alone to care for Runt, a foundling of unknown origin. As Girl and Runt face the coming winter storms, Girl realizes she has one final chance to save her people, even if it means sacrificing part of herself.

In the modern day, archaeologist Rosamund Gale works well into her pregnancy, racing to excavate newly found Neanderthal artifacts before her baby comes. Linked across the ages by the shared experience of early motherhood, both stories examine the often taboo corners of women's lives.

Haunting, suspenseful, and profoundly moving, THE LAST NEANDERTHAL asks us to reconsider all we think we know about what it means to be human.

Claire Cameron is the author of The Bear, an incredibly moving and powerful title I read a few years ago.  I'm quite intrigued to read this one, hoping it moves me as much as her previous title. 
Burn Town by Jennifer McMahon (April 25):

Ashford, Vermont, might look like your typical sleepy New England college town, but to the shadowy residents who live among the remains of its abandoned mills and factories, it's known as "Burntown."

Eva Sandeski, known as "Necco" on the street, has been a part of this underworld for years, ever since the night her father Miles drowned in a flood that left her and her mother Lily homeless. A respected professor, Miles was also an inventor of fantastic machines, including one so secret that the plans were said to have been stolen from Thomas Edison's workshop. According to Lily, it's this machine that got Miles murdered.

Necco has always written off this claim as the fevered imaginings of a woman consumed by grief. But when Lily dies under mysterious circumstances, and Necco's boyfriend is murdered, she's convinced her mother was telling the truth. Now, on the run from the man called "Snake Eyes," Necco must rely on other Burntown outsiders to survive.

There are the "fire eaters," mystical women living off the grid in a campsite on the river's edge, practicing a kind of soothsaying inspired by powerful herbs called "the devil's snuff"; there's Theo, a high school senior who is scrambling to repay the money she owes a dangerous man; and then there's Pru, the cafeteria lady with a secret life.

As the lives of these misfits intersect, and as the killer from the Sandeski family's past draws ever closer, a story of edge-of-your-seat suspense begins to unfurl with classic Jennifer McMahon twists and surprises.

Jennifer McMahon is one of my long-time favorite authors.  I'm always impatiently awaiting her most recent release. She excels at writing strong, captivating and genuine female characters.  The summary of this one has me even more excited to dive in and read it!
Bear Town by Fredrik Backman (April 25):

People say Beartown is finished. A tiny community nestled deep in the forest, it is slowly losing ground to the ever encroaching trees. But down by the lake stands an old ice rink, built generations ago by the working men who founded this town. And in that ice rink is the reason people in Beartown believe tomorrow will be better than today. Their junior ice hockey team is about to compete in the national semi-finals, and they actually have a shot at winning. All the hopes and dreams of this place now rest on the shoulders of a handful of teenage boys.

Being responsible for the hopes of an entire town is a heavy burden, and the semi-final match is the catalyst for a violent act that will leave a young girl traumatized and a town in turmoil. Accusations are made and, like ripples on a pond, they travel through all of Beartown, leaving no resident unaffected.

Beartown explores the hopes that bring a small community together, the secrets that tear it apart, and the courage it takes for an individual to go against the grain. In this story of a small forest town, Fredrik Backman has found the entire world.

I adore Backman's writing.  His titles A Man Called Ove, My Grandmother Asked Me to Tell You She's Sorry have both been book club picks at the book club I lead at One More Page Books. I'm so excited to see a new title to devour! 
Dogs of War by Jonathan Maberry (April 25):

The ninth thrilling addition to the New York Times bestselling Joe Ledger series that pits Joe and his Echo Team against an army of robotic dogs that can't be killed, only stopped.

Dogs of War: Robots are no longer science fiction. Autonomous, programmed to react like animals: fast, relentless, deadly. From microscopic nanobots to massive self-guided aircraft. This technology is here; it's accessible; and it's dangerous. What's even scarier is that almost anyone can get their hands on it.

A freelance terrorist uses the latest generation of robot dogs to deliver WMDs into cities across America. Sophisticated military weapons systems turn on their human masters. A technological apocalypse is coming and we may be too late to stop it.

Joe Ledger and a newly rebuilt Department of Military Sciences square off against this new and terrible threat. Dogs of War pits Joe against a merciless new enemy and an army of techno-terrorists in a race to prevent a global destruction.

Let loose the Dogs of War.

If you haven't started Maberry's Joe Ledger series, you are missing out. It is truly phenomenal.  I personally recommend the audio; Ray Porter is an outstanding narrator.  He IS Joe Ledger to me!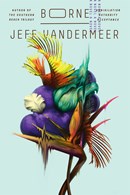 Borne by Jeff Vandermeer (April 25):

"Am I a person?" Borne asks Rachel, in extremis.
"Yes, you are a person," Rachel tells him. "But like a person, you can be a weapon, too."

In a ruined, nameless city of the future, Rachel makes her living as a scavenger. She finds a creature she names Borne entangled in the fur of Mord, a gigantic despotic bear that once prowled the corridors of a biotech firm, the Company, until he was experimented on, grew large, learned to fly, and broke free. Made insane by the company's torture of him, Mord terrorizes the city even as he provides sustenance for scavengers.

At first, Borne looks like nothing at all—just a green lump that might be a discard from the Company, which, although severely damaged, is rumored to still make creatures and send them to far-distant places that have not yet suffered collapse.

Borne reminds Rachel of the island nation of her birth, now long lost to rising seas. She feels an attachment that she resents: attachments are traps, and in this world any weakness can kill you. Yet when she takes Borne to her subterranean sanctuary, Rachel convinces her lover, Wick—a special kind of dealer—not to render down Borne as raw genetic material for the drugs he sells.

But nothing is quite the way it seems: not the past, not the present, not the future. If Wick is hiding secrets, so is Rachel—and Borne most of all. What Rachel finds hidden deep within the Company will change everything and everyone. There, lost and forgotten things have lingered and grown. What they have grown into is mighty indeed.

I feel like I sound like a broken record; Vandermeer is yet another one of my "go to" authors. His most work was the New York Times bestselling Southern Reach Trilogy. Truly, truly unique. 
The Witchfinder's Sister by Beth Underdown (April 25):

A debut literary historical thriller based on the witch hunts in 1640s England—the most intense in English history—in which Matthew Hopkins, the Witchfinder General, convicted more than a hundred women of witchcraft.

In 1645, Alice Hopkins returns to her brother's house in disgrace, husbandless and pregnant. The brother she remembers is now a grown man and he's hunting witches: women who live on the margins of society—often childless widows, or women with deformities or feeble minds who are rejected by their communities. Viewed through the eyes of Alice, this is a woman's story of fear, friendship, love, betrayal, and redemption. What—or who—is Matthew really hunting? And to what dark place will his obsession lead them all?

No denying, I'm obsessed with the Salem Witch Trials. There should be no question as to my interest in this one, either. I'm thrilled to read a debut novel with a new take on classic bit of our country's history!
There you have it! All of the April titles I'm excited about.  What about you? Did you discover any new titles that piqued your interest? Did I miss out on any?