I received this book for free from the publisher in exchange for an honest review. This does not affect my opinion of the book or the content of my review.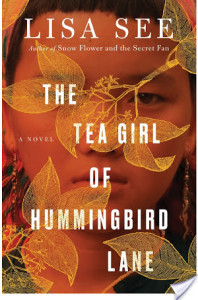 The Tea Girl of Hummingbird Lane by Lisa See
Published by Simon and Schuster on March 21st 2017
Genres: Asian American, Fiction, Literary, Sagas
Pages: 384
Source: the publisher

Li-yan and her family reside in the remote Yunnan village.  Every bit of their lives revolves around the farming of tea, as it has for generations. Li-yan, the only educated girl in her village, serves as translator one the fateful day an automobile (the first they have ever seen!) pulls up outside their village.  This one exchange changes the village dramatically, forcing them to veer away from the customs and traditions long honored.

Li-yan knows the importance of following the strict traditions.  As a midwife, she's been forced to make difficult decisions surrounding tradition, customs, and traditions.  When she has her own baby out of wedlock, however, rather than honoring tradition, she wraps up her daughter, including a tea cake made from her family's tea leaves, and travels far to the nearest city, where she abandons the girl at an orphanage.

The meeting with the stranger outside her village opens a host of new opportunities to Li-yan, allowing her a glimpse into the outside world.  Eventually, she moves from the quiet, safe security of her village.  Never once does she forget her daughter; she grieves for the loss and is desperate to regain that connection again.

Meanwhile, in California, Li-yan's daughter has been adopted by a privileged American family who cherishes her.  Despite this privileged life, Haley yearns to learn more about her orgin.  She's kept the tea cake found with her; it's like a roadmap back to her birth mother.   It is this tea, and their genetic connection to it, that will, eventually, reunite them as one.
This is, by far, my favorite novel written by Lisa See.  It has a level of feeling that is so intense, so heart-wrenchingly beautiful, that I am actually mourning its conclusion.
See has captured the connection between a mother and daughter, of fate and tradition, of the security of home, and combined it into one profoundly captivating and endearing novel.  Her vivid descriptors of not only the characters but the small village of their origin is so genuine and detailed that it wasn't difficult to become quickly enamored and absorbed.   It takes the reader on a tremendous epic saga, simultaneously full of heartbreak and of joy.
Though the ending has closure and wraps up quite nicely, I feel a loss now that I've read this; I want, no I need, to know more about Li-yan and Hazel, of their reunion and life following.  It's been some time that I've become so connected to characters that I'm finding it difficult to break that connection.
If you haven't had the joy to sample Lisa See's writing, I do implore you to do so. This title may serve as the perfect leaping off point, for it encapsulates years of her tremendously talented writing into one profound novel.  This is certain to make my favorites of the year lists! Highly, highly recommended.