I received this book for free from the publisher in exchange for an honest review. This does not affect my opinion of the book or the content of my review.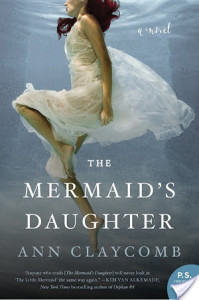 The Mermaid's Daughter by Ann Claycomb
Published by HarperCollins on March 7th 2017
Genres: Contemporary Women, Fairy Tales, Folk Tales, Legends & Mythology, Fiction, Literary
Pages: 448
Format: ARC
Source: the publisher

Kathleen, a twenty-five-year-old opera student in Boston has long suffered from a strange malady: her feet are filled with tremendous pain, as though she has walked on class, and her tongue often feels as though it's been ripped from her mouth, the pain so intense.  She's sought the care of numerous doctors, yet none have been able to uncover a physical cause for the pain.  Her only source of relieve is sea water, be it ever so brief.

Kathleen's girlfriend, Harry, worries about Kathleen's mental well-being.  Kathleen's mother and grandmother committed suicide at an early age, both victims of the same strange symptoms.

After Kathleen suffers yet another devastating breakdown, Harry convinces Kathleen that they must go to Kathleen's hometown in Ireland to investigate her family's past and learn more about this strange, debilitating ailment.

There, the secrets they uncover trace further back in time than anyone could have imagined.  Kathleen's fate, like the fate of her mother and grandmother before her, seems predetermined. Only one means of escape is available...and it's deadly.
I'm a long time fan of Hans Christian Andersen book's The Little Mermaid as well as Disney's retelling of the story (I have every song memorized. I may have had dreams of becoming Ariel myself).
Therefore, when I heard the premise of this title I knew I had to read it. Immediately, I was captivated. Claycomb keeps up with the original story, yet also adds a unique and modern twist.  Additionally, the importance of music, and the power of one's voice to relay what lies within their soul,  plays a key role in this novel.
Obviously, the reader will be required to suspend quite a bit of disbelief while reading this title, but honestly, it's quite worth it. A perfect escapist read, one that will easily captivate you and demand reading in one sitting.
I hesitate to say more for fear of revealing too much. Rather, I do implore you to try it out yourself; you won't be disappointed. Highly, highly recommended.