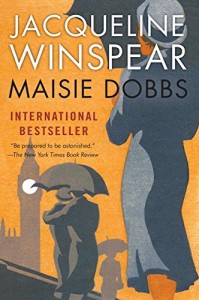 Maisie Dobbs by Jacqueline Winspear
Published by Soho Press on 2003
Genres: Fiction, Historical, Mystery & Detective, Women Sleuths
Pages: 294
Goodreads

At age thirteen, Maisie Dobbs got her start in life by serving as maid for Lady Rowan Compton, an aristocratic suffragette in London.  Her employer was quick to see that Maisie deserved a better fate in life, she had an intuition and a mind about her that far surpassed her position in life.  After receiving tutoring by Lady Rowan's friend,  Maurice Blanche (often hired as an investigator by the London elite), Maisie gained entry to the prestigious Girton College in Cambridge.

Yet fate stepped on once again; with the Great War raging on around her, Maisie trained as a nurse and worked on the front line, helping those injured in the war heal and recover.

Ten years later, Maisie has assumed the role of her mentor and is now serving as a private investigator herself. Her most recent case surrounds a refuge known as The Retreat, known to help soldiers return to "normal" life following the war. This case forces Maisie to come to terms with what happened to her in the war, to address feelings that she's denied these last several years.  The case quickly reminds Maisie that the effects of the war aren't always visible or physical; the mental and emotional ones are often far more pervasive.
Yes, I am just now diving into the wonderful world that is Maisie Dobbs.  As you all know, my reading has been struggling lately. I was on a desperate hunt for an audiobook that would not only entertain but also captivate me, it was recommended that I give Maisie Dobbs a try.
Within five minutes of listening I was immersed.  Not only is the subject matter and time period incredibly fascinating to me, but the narrator of the audio is simply phenomenal.  Rita Barrington has an incredibly soothing and relaxing voice; quickly my heart beat slowed and I became incredibly invested in the world of Maisie Dobbs.
Maisie's character is one that readers/listeners will quickly bond with; she's a woman embarking upon a man's world, taking on private investigation using not only physical clues but feelings and intuition as well.  Alternating time periods allow a substantial amount of character development. Maisie begins as a young girl enamored with knowledge yet otherwise timid; it isn't until her experience at college and then war that she gets a glimpse of the woman she was mean to be.
As a late starter to this series, I'm thrilled to see I have so many more awaiting me.  Maisie Dobbs has quickly become a new favorite character of mine, one whom I can't wait to connect with even further.  Within minutes of finishing the first title I moved on to the next. Completely captivating from the beginning.  Highly, highly recommended!