I received this book for free from the publisher in exchange for an honest review. This does not affect my opinion of the book or the content of my review.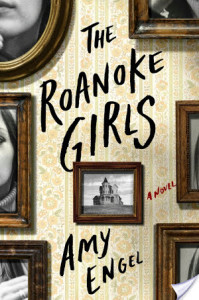 The Roanoke Girls by Amy Engel
Published by Crown/Archetype on March 7th 2017
Genres: Contemporary Women, Fiction, Psychological, Suspense, Thrillers
Pages: 288
Format: ARC
Source: the publisher

When fifteen-year-old Lane Roanoke's mother committed suicide, she was forced to return to the very place from which her mother fled: her childhood home in rural Kansas.  Lane never knew much about her mother's family, yet she found herself quickly becoming adapted to being one of the Roanoke girls.

Her close companion was her cousin Allegra.  Allegra was a wild child, refusing to uphold their grandparent's rules, rushing to test their patience with her less than stellar behavior and attitude.  What Lane learns about the Roanoke girls just touches the surface of what has really transpired...and why she and Allegra are the only survivors. Once she learns the truth she too, like her mother, runs far, far away.

Over a decade later, Lane receives a phone call from her grandfather: Allegra has gone missing. Torn with guilt for leaving Allegra behind, Lane returns and is quickly confronted with the horrifying secret that caused her to flee initially.

Lane must confront the horrid past of the Roanoke family and finally put an end to turmoil that has cursed the Roanoke girls, to be the vessel of change to bring to rise a more hopeful and uplifting fate.
The promise of dark and twisty family secrets is what led me to this particular title.  I was not at all disappointed.  It's actually quite difficult to relay my opinions without giving hints at "the secret."  I kind of had an idea of what I was going into when I started, yet the level and depth of that secret was completely unknown to me until I was through a good portion of the title.
This is certainly not a book I would recommend to those particularly sensitive but that said, there is so much more to this book than the often taboo secret that lies within the walls of the Roanoke estate. It's an incredibly well written saga of love, of family, of truth and perseverance.  Lane's fate could have been similar to the Roanoke girls before her, yet she refused to fall victim to that same fate, that destiny that has erased so many of those before her.
Though not a light read, this is an important one that should not be overlooked.  If ever there was a book about rising above one's fate for a more hopeful future, this is it. Highly recommended.