I received this book for free from the publisher in exchange for an honest review. This does not affect my opinion of the book or the content of my review.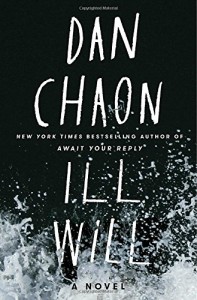 Ill Will by Dan Chaon
Published by Random House Publishing Group on March 7th 2017
Genres: Crime, Fiction, Literary, Psychological
Pages: 480
Format: eARC
Source: the publisher

Dustin, a psychologist in the suburbs of Cleveland, learns his adopted brother, Rusty, has been released from prison.  Thirty years ago, Rusty was convicted of murdering Dustin's parents, aunt and uncle.  DNA evidence has since overturned his life sentence. Dustin and his cousin were the ones who put Rusty behind bars all those years ago.  Their testimony regarding Rusty's involvement in a Satanic cult and the likelihood that he killed his previous foster parents easily convince the jury to put him away. Yet, now that he's out, Dustin's worried his adopted brother will seek him out, seeking revenge.

Meanwhile, one of Dustin's patients, a former police office, is obsessed with the deaths of a series of drunk college boys.  His patient believes them to all be victims of a serial killer.  At first, Dustin thinks he's patient is drawing at straws, desperate to be involved in yet another police investigation.  Yet when they embark upon their own investigation, he too becomes obsessed.

Rusty's release and the potential coincidences between these recent deaths puts Dustin on edge, his past and present competing for attention.  He begins to question everything, including his own memory.  He can't get over what transpired thirty years ago. The past becomes a pervasive shadow over him, preventing him from thinking straight, putting the lives of his family, and his very own, in danger.
We all have the experience in which we think back on a childhood memory and wonder at the accuracy of that memory.  In our case, it may be small in trivial. In Dusty/Dustin's mind, however, it put his adoptive brother behind bars for 30 years.
There is nothing simple and straight-forward about this novel. Though I've classified it as suspense/thriller, it's more than that.  Instead, it's a extremely well-crafted glimpse at how our past and our memories influence our future.  It is definitely one of those books that gets inside your mind, forcing you to reflect upon your own life and decisions you've made, questioning memories you have, stories from your past.  It leaves you with an unsettling feeling, for each and every one of the characters involved finds themselves doing the very same.
What made this novel stand out for me is that it's obvious that it's well-plotted and planned, yet also simultaneously open-ended and vague.  Each and every one of the characters are connected in the sense that they don't know what  is real, what actuality to believe. They are chillingly aware that this lack of clarity and finality puts their entire world in a whirlwind of doubt.
Bottom line: if you are seeking a deeply psychological, cerebral read, this is most definitely the book for you. Certainly not one you can plow through in one sitting, it is definitely one that must be savored and slowly devoured. Highly, highly recommended.