I received this book for free from the publisher in exchange for an honest review. This does not affect my opinion of the book or the content of my review.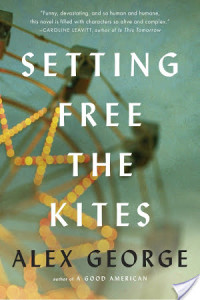 Setting Free the Kites by Alex George
Published by Penguin on February 21, 2017
Genres: Coming of Age, Family Life, Fiction, Literary
Pages: 352
Format: eARC
Source: the publisher

Robert Carter is embarking on his first day of eighth grade in his coastal hometown in Maine.  His life is quite predictable; he knows the summer reprieve from the town bully is over and, with almost robot-like behavior, responds to his attack.  This time, however, he is saved. Nathan Tilly, the new boy in town, stops the attack.  Nathan is everything Robert is not; he is carefree, adventurous, and confident.

The two form an instant friendship. Robert is introduced to Nathan's fondness for kites and flying. Their friendship is mutually beneficial; Robert needs to gain confidence and Nathan needs an anchor, at times, to reel in his adventurous behavior.  Yet neither realized just how important and necessary their friendship is, until they both experience personal tragedies that shape their formative pre-teen years.  Robert attempts to use his loss as a learning experience, while Nathan uses it as additional fuel for the unrelenting fire that resides within him.


What a mesmerizing and eloquent read! As of late, I've struggled to maintain my interest in reading.  Life just takes control, leaving me unable to focus and become invested in a book.  That completely flew out the window with this novel.  I was immersed by the first three pages, completely invested in the characters and their separate, yet parallel, lives.
The setting was absolutely perfect.  Robert's father owns the local amusement park; he inherited it from his father and the intent is that Robert will do the same.  The park has seen better days; his father spends most of the off-season replacing and repairing outdated amusement rides.  Needless to say, Robert's father is consumed with the park out of familial guilt and obligation rather than an actual passion.  This carries on into his everyday life; so overwhelmed with responsibility that when it shifts, he's left lost and confused about what path his life must take.
The author expertly captures this loss that each of the characters endure, making it quite natural to feel sympathy and pain for the challenges they must face.  That's not to say this novel is full of loss; there's actually a great deal of hope and perseverance as well.  This is a book that takes hold of your life, so much that you forget the individuals are fictional and assume them as characters in your everyday life.  What makes this novel remarkable is that it crosses lines of not only genre, but of age levels as well. I have no qualms with recommending this to teens or mature adults alike, for it has a unique beauty that will stand out for readers of all ages. Highly, highly recommended.