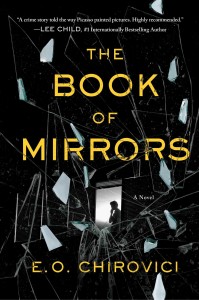 The Book of Mirrors by E. O. Chirovici
Published by Simon and Schuster on February 21st 2017
Genres: Crime, Fiction, Mystery & Detective, Private Investigators, Thrillers
Pages: 288

It isn't uncommon for Peter Katz, a literary agent, to receive a partial book submission.  His most recent one, however, has him intrigued.  A memoir, written by Richard Flynn, chronicles his time as an English student at Princeton in the late 1980s.  His girlfriend at the time was a protege of the famous Professor Joseph Weider, a man who was brutally murdered in his home.  The case is yet solved; Katz is certain that this book is either a confession by Flynn himself, or will at least provide clues to the identity of the real killer.

Desperate to obtain the rest of the manuscript, Katz learns that the author is dying in the hospital, the location of the remaining pages unknown.  Katz relies upon an investigative journalist, John Keller, to research the events and piece together what happened that night in 1987.  He reaches out to the original investigator assigned to the case, a man unfortunately recently diagnosed with early-onset Alzheimers. Spurred on by Keller's investigation and his need to put closure on this cold case before he loses his mind, the now-retired detective launches a fresh investigation on a two-decade old cold case, determined to uncover secrets left buried all this time.
What a thrilling read! The format, a book within a book in a sense, was completely mesmerizing.  Never did I find myself confused or losing track of time or place; Chirovici's elegantly written book was obviously carefully and expertly plotted.  A key theme is memory: the investigator on the case is suffering from the early stages of Alzheimer's, a key witness suffers from retrograde amnesia and, we learn, the murder victim himself was known for his work on trauma's effect on memory.
Told in alternating points of view, the reader is left vulnerable, uncertain who to trust.  Yet, somehow this doesn't detract from the experience, rather, it fuels the intensity of the read.   This murder has been a cold case for decades; there is no rushed timeline to get answers.  That said, there is a distinct feeling of urgency as each of the key players in this most recent investigation close in on answers.
Most definitely one of the most richly and expertly crafted thrillers I have read in some time! The author captivates his reader by revealing clues and truths slowly and deliberately, planned but not so that it seems forced or lacking in plausibility. This is definitely a book that really makes you think, and leaves you thinking long after you've closed the final pages. It is one in which you will want to pick-up and reread, for something more is certain to be discovered. Highly, highly recommended.