Egads! It's been far too long since I've done one of these preview posts!  I must say, they do help me organize/plan ahead with my reading. Perhaps their absence explains my reading funk lately?
The list below is just a portion of the March releases I'm excited about, those titles published the first week of March.  I've shared the publisher's summary and a quick statement about why I'm so excited about that title.
All Grown Up by Jami Attenberg (March 7):
Who is Andrea Bern? When her therapist asks the question, Andrea knows the right things to say: she's a designer, a friend, a daughter, a sister. But it's what she leaves unsaid—she's alone, a drinker, a former artist, a shrieker in bed, captain of the sinking ship that is her flesh—that feels the most true. Everyone around her seems to have an entirely different idea of what it means to be an adult: her best friend, Indigo, is getting married; her brother—who miraculously seems unscathed by their shared tumultuous childhood—and sister-in-law are having a hoped-for baby; and her friend Matthew continues to wholly devote himself to making dark paintings at the cost of being flat broke.

But when Andrea's niece finally arrives, born with a heartbreaking ailment, the Bern family is forced to reexamine what really matters. Will this drive them together or tear them apart? Told in gut-wrenchingly honest, mordantly comic vignettes, All Grown Up is a breathtaking display of Jami Attenberg's power as a storyteller, a whip-smart examination of one woman's life, lived entirely on her own terms.

I think the last statement sums up my feelings quite well: a woman's life, lived entirely on her own terms.  A woman pursuing her hopes and dreams, not held up by society's demands on what she should/should not be.  A woman that defies convention? Yes, please.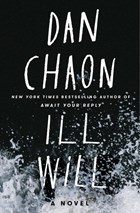 Ill Will by Dan Chaon (March 7):

In 1983, Dustin Tillman's family—his parents and his aunt and uncle—were murdered in a shocking massacre. His foster brother, Rusty, was convicted of the crime, in a trial that was steeped in the "Satanic Cult" paranoia of the 1980s.

Thirty years later, Rusty's conviction is overturned, and suddenly Dustin, now a psychologist, must question whether his testimony that imprisoned his brother was accurate. When one of his patients, an ex-cop, gets him deeply involved in a series of unsolved murders, Dustin's happy suburban life starts to unravel, as his uncertainties about his past and present life begin to merge.

Twisty, unsolved murders? Yep, that's my jam. 
The Night Ocean by Paul La Farge (March 7):

Marina Willett, M.D., has a problem. Her husband, Charlie, has become obsessed with H.P. Lovecraft, in particular with one episode in the legendary horror writer's life: In the summer of 1934, the "old gent" lived for two months with a gay teenage fan named Robert Barlow, at Barlow's family home in central Florida. What were the two of them up to? Were they friends—or something more? Just when Charlie thinks he's solved the puzzle, a new scandal erupts, and he disappears. The police say it's suicide. Marina is a psychiatrist, and she doesn't believe them.

A tour-de-force of storytelling, The Night Ocean follows the lives of some extraordinary people: Lovecraft, the most influential American horror writer of the 20th century, whose stories continue to win new acolytes, even as his racist views provoke new critics; Barlow, a seminal scholar of Mexican culture who killed himself after being blackmailed for his homosexuality (and who collaborated with Lovecraft on the beautiful story "The Night Ocean"); his student, future Beat writer William S. Burroughs; and L.C. Spinks, a kindly Canadian appliance salesman and science-fiction fan—the only person who knows the origins of The Erotonomicon, purported to be the intimate diary of Lovecraft himself.

As a heartbroken Marina follows her missing husband's trail in an attempt to learn the truth, the novel moves across the decades and along the length of the continent, from a remote Ontario town, through New York and Florida to Mexico City. The Night Ocean is about love and deception—about the way that stories earn our trust, and betray it.

H.P. Lovecraft. I think that's all I need to say about this one. Also the cover? Stunning!
The Mermaid's Daughter by Ann Claycomb (March 7):

A modern-day expansion of Hans Christian Andersen's The Little Mermaid, this unforgettable debut novel weaves a spellbinding tale of magic and the power of love as a descendent of the original mermaid fights the terrible price of saving herself from a curse that has affected generations of women in her family

Kathleen has always been dramatic. She suffers from the bizarre malady of experiencing stabbing pain in her feet. On her sixteenth birthday, she woke screaming from the sensation that her tongue had been cut out. No doctor can find a medical explanation for her pain, and even the most powerful drugs have proven useless. Only the touch of seawater can ease her pain, and just temporarily at that.

Now Kathleen is a twenty-five-year-old opera student in Boston and shows immense promise as a soprano. Her girlfriend Harry, a mezzo in the same program, worries endlessly about Kathleen's phantom pain and obsession with the sea. Kathleen's mother and grandmother both committed suicide as young women, and Harry worries they suffered from the same symptoms. When Kathleen suffers yet another dangerous breakdown, Harry convinces Kathleen to visit her hometown in Ireland to learn more about her family history.

In Ireland, they discover that the mystery—and the tragedy—of Kathleen's family history is far older and stranger than they could have imagined. Kathleen's fate seems sealed, and the only way out is a terrible choice between a mermaid's two sirens—the sea, and her lover. But both choices mean death…

Haunting and lyrical, The Mermaid's Daughter asks—how far we will go for those we love? And can the transformative power of music overcome a magic that has prevailed for generations?

Modern day Little Mermaid? A curse? Yep. This one has my interest! 
The Roanoke Girls by Amy Engel (March 7): 

Lane Roanoke is fifteen when she goes to live with her maternal grandparents and fireball cousin, Allegra, at the Roanoke family estate in rural Osage Flats, Kansas, following the suicide of her mother. Lane knows little of her mother's family, other than the fact that her mother ran away years before and cut off all contact with her parents. Allegra, abandoned by her own mother at birth and raised by her grandparents, introduces Lane to small-town life and the benefits of being one of the rich and beautiful Roanoke girls. But there is darkness at the heart of the Roanoke family, and when Lane discovers its insidious pull she has no choice but to run, as far and as fast as she can.

Eleven years later, Lane is scraping by in Los Angeles when her grandfather calls with the news that Allegra has gone missing. "Come home," he beckons. Unable to resist his pleas, Lane returns to Osage Flats, determined to find her cousin and assuage her own guilt at having left Allegra behind all those years ago. Her return might mean a second chance with Cooper, the boyfriend whom she loved and destroyed that fateful summer. But it also means facing the terrible secret that made her flee, one she may not be strong enough to run from again.

As it weaves between the summer of Lane's first arrival and the summer of her return, The Roanoke Girls shocks and tantalizes, twisting its way through revelation after mesmerizing revelation, exploring the secrets families keep and the fierce and terrible love that both binds them together and rips them apart.

Oooh, I do love me some family secrets!
Edgar & Lucy by Victor Lodato (March 7):

Eight-year-old Edgar Fini remembers nothing of the accident people still whisper about. He only knows that his father is gone, his mother has a limp, and his grandmother believes in ghosts. When Edgar meets a man with his own tragic story, the boy begins a journey into a secret wilderness where nothing is clear—not even the line between the living and the dead. In order to save her son, Lucy has no choice but to confront the demons of her past.

Profound, shocking, and beautiful, Edgar and Lucy is a thrilling adventure and the unlikeliest of love stories.

Talk about an attention-grabbing premise!
Do any of these titles grab your attention? Come back tomorrow when I share more titles I'm anticipating!