I received this book for free from the publisher in exchange for an honest review. This does not affect my opinion of the book or the content of my review.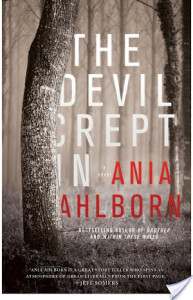 The Devil Crept In by Ania Ahlborn
Published by Simon and Schuster on February 7th 2017
Genres: Family Life, Fiction, Horror, Suspense, Thriller, Thrillers
Pages: 384
Format: ARC
Source: the publisher

Jude Brighton has been missing for three days.  The only one really concerned about his well-being is his cousin and best friend, Stevie Clark.  Jude wasn't the nicest of kids; the locals assumed he just up and ran away. Their search attempts lack in effort.  Yet they can't help but think about the boy that went missing years ago, Max Larson.  He was eventually found dead, the circumstances quite mysterious.

This isn't the only secret this small Oregon town keeps.  None of the locals have pets; there is no veterinarian in town because there is no demand.  The fear that has long been buried is suddenly reborn, far more terrifying than anyone could have imagined.
If you haven't read any of Ahlborn's work, add her to your list, especially if you are a fan of horror like I am.  Everything she writes is brilliantly terrifying; the fact that she can send chills down my spine is quite telling.
This most recent novel, like her others, is so expertly crafted. Layer upon layer of storyline constructed into a well-developed, truly terrifying reading experience.  Told largely from the point of view of young Stevie, his fear and terror come through quite powerfully, his experiences well relayed through the text.  He struggles with speech, often ignored because of this.  The reader fully experiences his frustration; I think I actually found myself rooting more for Stevie than his missing cousin.
The origin behind the unsolved deaths in this small town is quite unique.  While Ahlborn eventually relays what transpired, I think I would have enjoyed a bit more background on why it happened.  That said, this is still a brilliantly executed horror, the kind that leaves a lasting chill with its readers.  Highly, highly recommended.