I received this book for free from the publisher (egalley) in exchange for an honest review. This does not affect my opinion of the book or the content of my review.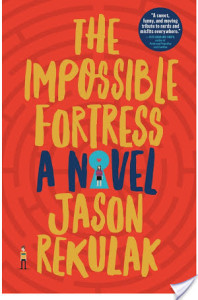 The Impossible Fortress by Jason Rekulak
Published by Simon and Schuster on February 7, 2017
Genres: Action & Adventure, Coming of Age, Fiction, Literary
Pages: 304
Source: the publisher (egalley)

Fourteen-year-old Billy Marvin is a self-declared nerd.  It's the late 1980s.  His mom works evenings, so his buddies tend to hang out at his house most evenings, watching obscene amounts of television.  In his free time, he's busy programming video games on his Commodore 64.  His life is relatively mundane. Until Playboy magazine publishes photos of Wheel of Fortune hostess Vanna White.

Underage, he and his friends are unable to get their hands on the magazine. Desperate, they come up with an elaborate plot to obtain a copy from a local store.  The only challenge is obtaining the security code.  Billy is given the challenge of warming up to the store-owner's daughter, Mary Zelinsky, in an attempt to obtain the elusive code.  Instead, he discovers that Mary is a computer genius herself.  The two quickly connect over their shared love of programming and begin working on a game to enter in into a prestigious contest. Yet Billy's friends won't let him to forget his original purpose...to get Mary to fall for him and relinquish the security code.
I adored this book! A tribute to the 80s and the infancy of the computer age, this book had me reminiscing about my own youth.  This read was a breath of fresh air, so full of hope and innocence, the characters all at an age in which anything is possible.
One can't help but feel for Billy. He struggles to do what is right, yet the influence of his friends often wins over.  Still, he consistently tries to make up for his mistakes (except, you know, when he chooses programming over his school work).
His relationship with Mary is genuine, though there is something preventing them from getting beyond friendship.  Full of twists and turns, heartbreak and love, this is the sort of book you'll want to pick up when you want to escape.  I devoured this book in one sitting, completely enamored by the feelings it left me.  Highly, highly recommended.