I received this book for free from the publisher in exchange for an honest review. This does not affect my opinion of the book or the content of my review.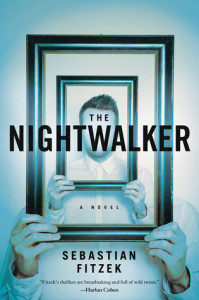 The Nightwalker by Sebastian Fitzek
Published by Pegasus Books on February 7, 2017
Genres: Fiction, Psychological, Suspense, Thrillers
Pages: 416
Format: Hardcover
Source: the publisher

Leon Nader suffers from insomnia so extreme that it leads to sleepwalking. As a child, his sleepwalking was threatening, bordering on violence.  Now an adult, he believed himself cured of this ailment.  Until one morning his wife disappears mysteriously.  The last image he has of her is with a battered and bruised face, limping as she left their flat.

In an effort to  uncover what transpires while he sleeps, Leon sets up a motion-activated camera attached to his forehead.  When he awakes and watches the footage, he's shocked by what he's done while he thought himself to be sleeping.  Now troubled with what is his waking versus sleeping self, Leon must figure out a way to combine the two into one. His wife's safety, and his very own, are at risk.
What an incredibly twisty read!  Told from the point of view of Leon himself, the reader is forced to come to terms with an incredibly unreliable narrator.  Just as one thinks the path they are following is the accurate (and sane!) one, we're taken on another completely twisted turn. The reader, and Leon himself, are forced to question everything they experience, for fear it might be a dream.  The setting…wowser.  What seems like an idyllic home turns out to be quite the opposite.
The suspense is endless; I found myself having to remember to breath.  I've never read anything like this, a true indication of this author's talent.
Speaking of the author, this is his American debut.  His writing has been translated in numerous countries.  I cannot wait to read more.
If you are desperate to discover a book that will take you away, this book most definitely fits the cake.  Not necessarily for the weak of heart (or stomach, in some cases).  This title will undoubtedly top my favorites of the year list!  Highly, highly recommended.