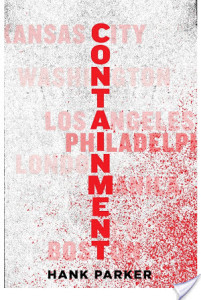 Containment by Hank Parker
Published by Simon and Schuster on January 10th 2017
Genres: Fiction, Medical, Suspense, Technological, Thrillers
Pages: 320

A farmer dies of a mysterious illness.  A woman takes her sick dog to the vet and, a few days later, dies herself. What begins as a small outbreak quickly advances into wild panic, entire segments of the state of Pennsylvania put on quarantine.

Epidemiologist Mariah Rossi and Curt Kennedy, a biothreat tracker are brought in to investigate the source of the virus, one typically found in the Middle East.  What starts out as a relatively small outbreak intensifies dramatically, demanding immediate attention.  Their investigation takes them all over the world, from the Philippines to Malaysia, to one "mad scientist" referring to himself as "Dr Vector."

With the fate of the country, and perhaps the world at risk,  Mariah and Curt in must reign in this "mad scientist" without becoming one of his next victims.
I was desperate for an escape read.  This one certainly met the qualifications.
Perhaps it was because I listened to the audio? I think this format added an intensity to it that may not have carried through to the print version. George Newbern is a "new to me" narrator; his narration definitely kept me captivated throughout.
The strong plausibility of such a virus, such an attack, adds a whole level of intensity and thrill to this read.  As a fan of bio-thrillers, this one is definitely up there as one of my favorites.  You aren't overwhelmed with scientific terminology, just enough to explain the threat.  The characters are fairly well developed (I would have liked a little more back story/history), and the pacing is perfect.
I think it's quite funny to refer to a bio-thriller as an escapist read, but in this case it most certainly is.  Highly recommended.