I received this book for free from the publisher in exchange for an honest review. This does not affect my opinion of the book or the content of my review.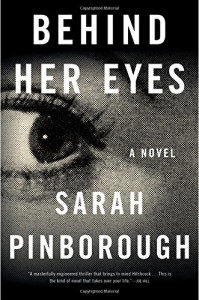 Behind Her Eyes by Sarah Pinborough
Published by Macmillan on January 31st 2017
Genres: Fiction, General, Mystery & Detective, Psychological, Thrillers
Pages: 320
Source: the publisher

Louise is a single mom to a young boy.  Though she works a few days a week at a doctor's office, her son is her entire life.  On a rare night out, she meets a man and instantly finds a connection. The romance doesn't go any further than a kiss, but she can't get him out of her mind.

Until she shows up at work and sees the man again.  At her office. Her new, married boss. He admits the kiss was a mistake and insists they must maintain a professional relationship.  Though difficult at first, Louise agrees.  Until she runs into David's wife, Adele.

Adele is young and beautiful, but desperate for a friend.  She spends most of her time alone in their home, prevented from venturing too far out due to scheduled calls home from David. Their marriage seems perfect, yet obviously there is something that would cause David's love to wane. Louise is drawn to her and, ignoring all the warning signs, she befriends Adele.

It isn't long before Louise becomes sucked in to the drama surrounding David and Adele's marriage. He seems so controlling; she seems to be constantly terrified.  There's something very wrong; just how wrong Louise doesn't discover until it's too late.
Never before have I uttered so man "WTF's" while reading.
First, let me start by saying I've been a fan of Pinborough's for over a decade.  My first introduction to her work was via her horror. She excels at writing the uber-creepy.  I was then drawn in to her suspense/thrillers and I can't imagine being a bigger fan!
Nothing, absolutely nothing, prepared me for this one.  I've read enough buzz about this book to be warned that it was going to knock me off of my feet but wow…just how much I had no idea.
It is impossible to trust any of the characters in this book; each has some sort of ulterior motive.  Just when I thought I had everything figured out, I was completely taken off base by the concluding chapters.  Sure, its a twisty read full of red-herrings and tangents.  But *insert all the expletives*, this one took me for a loop!
Readers of this novel, in order to appreciate the pure impact, must be able to suspend disbelief, or at least be willing to embrace some truly unbelievable plot twists.  All this said, it's completely and totally worth it.  I can't recall a book leaving my mind so jumbled and confused (in the very best ways, of course).
Bottom line: this is THE psychological suspense novel of 2017. I dare not compare it to previous works, for it truly and genuinely stands out on it's own. Highly, highly recommended.