I received this book for free from the publisher in exchange for an honest review. This does not affect my opinion of the book or the content of my review.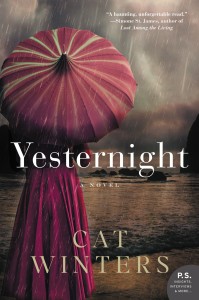 Yesternight by Cat Winters
Also by this author: The Uninvited
Published by William Morrow on October 4, 2016
Genres: Historical Fiction, Horror
Pages: 400
Format: ARC
Source: the publisher

Gordon Bay Oregon, 1925.  Alice Lind is a psychologist, called to this small town to administer intelligence tests to the town's children.  She's been asked to focus on one child in particular: Janie O'Daire.

At seven, Janie is a mathematical genius.  Yet this genius alone isn't what makes her require extra attention.  At a very young age, Janie demanded that her parents call her not her given name, but Violet. Additionally, she has horrific nightmares about drowning, that she actually drowned at the age of nineteen.

Realizing that a child's imagination is quite vast and creative, Alice launches a study into Janie's stories.  Not only does she discover the unbelievable in Janie's past, she also begins to reveal something dark and traumatic that existed in her own...
Now this is my type of read.  Rich in history, steeped in uber-creepiness, this was quite the perfect October read!
Winters crafted a brilliant story filled to the brim with scenes that left me with goosebumps.  I have this thing about creepy children; they terrify me to no end.  In this case, they are the fuel that fires the supernatural aspects of this read.  Had the writing not been compelling, I may have skimmed through several scenes of this book.
The setting, or shall I say settings, as they are a few, in this novel are stunning. Small and remote, away from the hustle and bustle of a big city.  Just perfect for a haunting tale like this one.
Janie's character is a complex one. Growing up, she had some behavioral….issues.  She still reflects upon them to date, for they are so horrific in nature she can't grasp the fact that they happened at her had.  It is this struggle and conflict that has driven her to pursue this occupation, one typically held by a man.
She's strong-willed and determined, unafraid to pursue her own passions, both in her life and in the bedroom.  Yet she struggles with the behavior she is supposed to project as an unwed woman of her age,  always a victim of society's strict norms.
As she studies this young girl with an incredibly rich imagination, we soon discover that there is more to Miss Lind that meets the eye.  It is soon evident that her own questions about her childhood propel her passion to study the imaginations and psyche of children. What she discovers in this case, however, propels her to embark on a journey to finally get the answers to her own questions.
Incredibly crafted, completely mesmerizing, wholly terrifying.  Highly, highly recommended!