I received this book for free from in exchange for an honest review. This does not affect my opinion of the book or the content of my review.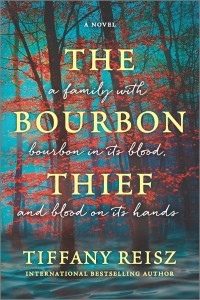 The Bourbon Thief by Tiffany Reisz
Also by this author: The Night Mark
Published by MIRA Books on June 28, 2016
Genres: Historical Fiction, Romance, Thriller
Pages: 384
Format: eARC

Cooper McQueen awakens from an intimate evening with a gorgeous young woman to find he's been robbed. The only item stolen was his most prized possession, a million-dollar bottle of bourbon. Luckily, Paris, the mysterious young woman, was prevented from escaping, insisting that the bottle belongs to her.  Reluctantly. McQueen listens as Paris explains her claim to the bottle and her connection to the Maddox family.

The Maddox family was a prominent family, owners of the Red Thread Bourbon distillery.  Years ago, the distillery closed and it seems Paris is the keeper of the secret to its closing.

Paris tells the story of Tamara Maddox, a spitfire of a young woman and the heiress to the Maddox empire. Her story is not a happy one, but one filled with deep, dark, and destructive family secrets, ones that have the ability to both destroy one life and set the fate of another.  Paris' possession of this bottle is the last step in a path of vengeance that has lasted over 100 years.
Readers may be shocked to see this book coming across my review schedule. On the surface, it doesn't seem like its my typical reading fare, yet on further examination quite the opposite is revealed.
I'm not going to reveal much about the premise in this review, for this is a story that is best left up to the reader to uncover. What I will say is that this is one of those books that is difficult to categorize, but one that will appeal to a wide variety of readers.
It's full of hot and steamy romance, love, mystery, self-identity and discovery.  The protagonist is a strong-willed character that I simultaneously chastised and cheered on.  Most importantly, what captured my attention the most, were the multi-layered secrets that riddled the Maddox family for generations.
While there were aspects of the story that I felt were rushed (I wouldn't have complained if the word-count had been increased in order to expand on some details), this was an incredibly captivating story that I read in one sitting.  This is fact, not cliche. Additionally, it managed to keep my attention and interest where many other titles had failed to do so.
This is my first sampling of Reisz's writing and it won't be my last.  While she is known for writing erotica, this novel transcends that classification into much more, in my opinion creating a completely new slate of readership.  She writes a powerful story full of rich, although sometimes uncomfortable, history, a truly dynamic family saga. Highly, highly recommended.