Yesterday, I shared with you the first half of my "most anticipated books" for May post. Today I'm excited to share with you the second part of this list. Like with yesterday's list, click on the book image or title to pre-order.
Midnight Crossroad by Charlaine Harris (May 6): FIRST IN A NEW TRILOGY
From Charlaine Harris, the bestselling author who created Sookie Stackhouse and her world of Bon Temps, Louisiana, comes a darker locale—populated by more strangers than friends. But then, that's how the locals prefer it…
Welcome to Midnight, Texas, a town with many boarded-up windows and few full-time inhabitants, located at the crossing of Witch Light Road and Davy Road. It's a pretty standard dried-up western town.
There's a pawnshop (someone lives in the basement and is seen only at night). There's a diner (people who are just passing through tend not to linger). And there's new resident Manfred Bernardo, who thinks he's found the perfect place to work in private (and who has secrets of his own).
Stop at the one traffic light in town, and everything looks normal. Stay awhile, and learn the truth…
Wolf by Mo Hader (May 6): Wolf kicks off when a vagrant-the Walking Man, an enigmatic, recurring character in Hayder's fiction-finds a dog wandering alone with a scrap of paper with the words "HELP US" attached to its collar. He's sure it's a desperate plea from someone in trouble and calls on Detective Inspector Jack Caffery to investigate. Caffery is reluctant to get involved-until the Walking Man promises in exchange new information regarding the childhood disappearance of Caffery's brother. Caffery has no idea who or what he is searching for, but one thing he is sure of: it's a race against time.
Meanwhile, the Anchor-Ferrers, a wealthy local family, are fighting for their lives, held hostage in their remote home ten miles away. As their ordeal becomes increasingly bizarre and humiliating, the family begins to wonder: is this really a random crime?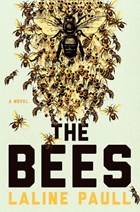 The Bees by Laline Paul (May 6):Born into the lowest class of her rigid, hierarchical society, Flora 717 is a sanitation worker, an Untouchable fit only to clean and remove the bodies of the dead from her orchard hive. As part of the collective, she is taught to Accept, Obey, Serve—work and sacrifice are the highest virtues, and worship of her beloved Queen the only religion. Her society is governed by the priestess class, questions are forbidden, and all thoughts belong to the Hive Mind.
But Flora is not like other bees—a difference that holds profound consequences. With circumstances threatening the hive's survival, her curiosity is regarded as a dangerous flaw but her courage and strength are an asset. She is allowed to feed the newborns in the royal nursery and then to become a forager, flying alone and free to collect pollen. She also finds her way into the Queen's inner sanctum, where she discovers mysteries about the hive that are both profound and ominous.
But when Flora breaks the most sacred law of all—daring to challenge the Queen's fertility—enemies abound, from the fearsome fertility police who enforce the strict social hierarchy; to the high priestesses jealously wedded to power. Her deepest instincts to serve and sacrifice are now overshadowed by an even deeper desire, a fierce maternal love that will bring her into conflict with her conscience, her heart, her society—and lead her to unthinkable deeds.
Part parable, part coming-of-age story, part pure page-turner, Laline Paull's chilling yet ultimately triumphant novel creates a luminous world that is simultaneously foreign and utterly familiar. Thrilling and imaginative, The Bees is the story of a strong-willed heroine who, in the face of an increasingly desperate struggle for survival, changes her destiny and her world.
The Painter by Peter Heller (May 6): Jim Stegner has seen his share of violence and loss. Years ago he shot a man in a bar. His marriage disintegrated. He grieved the one thing he loved. In the wake of tragedy, Jim, a well-known expressionist painter, abandoned the art scene of Santa Fe to start fresh in the valleys of rural Colorado. Now he spends his days painting and fly-fishing, trying to find a way to live with the dark impulses that sometimes overtake him. He works with a lovely model. His paintings fetch excellent prices. But one afternoon, on a dirt road, Jim comes across a man beating a small horse, and a brutal encounter rips his quiet life wide open. Fleeing Colorado, chased by men set on retribution, Jim returns to New Mexico, tormented by his own relentless conscience.
A stunning, savage novel of art and violence, love and grief, The Painter is the story of a man who longs to transcend the shadows in his heart, a man intent on using the losses he has suffered to create a meaningful life.
Invisible City by Julia Dahl (May 6): Just months after Rebekah Roberts was born, her mother, an Hasidic Jew from Brooklyn, abandoned her Christian boyfriend and newborn baby to return to her religion. Neither Rebekah nor her father have heard from her since. Now a recent college graduate, Rebekah has moved to New York City to follow her dream of becoming a big-city reporter. But she's also drawn to the idea of being closer to her mother, who might still be living in the Hasidic community in Brooklyn.
Then Rebekah is called to cover the story of a murdered Hasidic woman. Rebekah's shocked to learn that, because of the NYPD's habit of kowtowing to the powerful ultra-Orthodox community, not only will the woman be buried without an autopsy, her killer may get away with murder. Rebekah can't let the story end there. But getting to the truth won't be easy—even as she immerses herself in the cloistered world where her mother grew up, it's clear that she's not welcome, and everyone she meets has a secret to keep from an outsider.
In her riveting debut, journalist Julia Dahl introduces a compelling new character in search of the truth about a murder and an understanding of her own heritage.
Bird Box by Josh Malerman (May 13): Something is out there . . .
Something terrifying that must not be seen. One glimpse and a person is driven to deadly violence. No one knows what it is or where it came from.
Five years after it began, a handful of scattered survivors remain, including Malorie and her two young children. Living in an abandoned house near the river, she has dreamed of fleeing to a place where they might be safe. Now, that the boy and girl are four, it is time to go. But the journey ahead will be terrifying: twenty miles downriver in a rowboat—blindfolded—with nothing to rely on but her wits and the children's trained ears. One wrong choice and they will die. And something is following them. But is it man, animal, or monster?
Engulfed in darkness, surrounded by sounds both familiar and frightening, Malorie embarks on a harrowing odyssey—a trip that takes her into an unseen world and back into the past, to the companions who once saved her. Under the guidance of the stalwart Tom, a motely group of strangers banded together against the unseen terror, creating order from the chaos. But when supplies ran low, they were forced to venture outside—and confront the ultimate question: in a world gone mad, who can really be trusted?
Interweaving past and present, Josh Malerman's breathtaking debut is a horrific and gripping snapshot of a world unraveled that will have you racing to the final page.
To Rise Again at a Decent Hour by Joshua Ferris (May 13): Paul O'Rourke is a man made of contradictions: he loves the world, but doesn't know how to live in it. He's a Luddite addicted to his iPhone, a dentist with a nicotine habit, a rabid Red Sox fan devastated by their victories, and an atheist not quite willing to let go of God.
Then someone begins to impersonate Paul online, and he watches in horror as a website, a Facebook page, and a Twitter account are created in his name. What begins as an outrageous violation of his privacy soon becomes something more soul-frightening: the possibility that the online "Paul" might be a better version of the real thing. As Paul's quest to learn why his identity has been stolen deepens, he is forced to confront his troubled past and his uncertain future in a life disturbingly split between the real and the virtual.
At once laugh-out-loud funny about the absurdities of the modern world, and indelibly profound about the eternal questions of the meaning of life, love and truth, TO RISE AGAIN AT A DECENT HOUR is a deeply moving and constantly surprising tour de force.
The Transcriptionist by Amy Rowland (May 13): Once, there were many transcriptionists at the Record, a behemoth New York City newspaper, but new technology and the ease of communication has put most of them out of work. So now Lena, the last transcriptionist, sits alone in a room–a human conduit, silently turning reporters' recorded stories into print–until the day she encounters a story so shocking that it shatters the reverie that has become her life.
This exquisite novel, written by a woman who spent more than a decade as a transcriptionist at the New York Times, asks probing questions about journalism and ethics, about the decline of the newspaper and the failure of language. It is also the story of a woman's effort to establish her place in an increasingly alien and alienating world.
Remember Me Like This by Bret Anthony (May 13): Since Justin Campbell's disappearance four years ago, his family have been stuck in the grooves of grief, unable to comfort themselves let alone one another. His mother, his father, his younger brother, each have been living in a dream world for the last 4 years, coping the best they can.
And then the call from the police. Justin has been found and he is okay. It is a miracle.
But instead of righting the imbalances within this struggling family, Justin's return only lays bare the effects of his trauma, both on himself and his family, threatening to snap the last threads that hold the Campbells together.
Johnston's brilliant debut begins where others novels end, exploring not the crime of the abduction, but all of the unresolved questions about what really happens when a family's prayers have finally been answered and togetherness restored.
Didn't I tell you May was an excellent book month? Stay tuned tomorrow for the final "most anticipated books" of May posts!