Hardcover: 320 pages
Publisher: HarperCollins (August 20, 2013)
ISBN-10: 0062220969
Source: Personal Copy
Sixteen-year-old Dan Crawford is looking forward to starting the summer program at New Hampshire College Prep.  He's not really part of the "in-crowd" at his high school and he's looking forward to making some friends before he starts college the following year.  Upon his arrival, Dan learns that his dorm used to be an asylum for the criminally insane.
Dan is quick to make friends, surrounded by other like-minded individuals. Two of his closest friends are Abby and Jordan.  One night, they decide to go investigating the closed off portion of the dorm, formerly the administrative offices of the asylum. There they uncover brutal pictures depicting patients and some of the procedures performed on them.  Dan uncovers files on some of the former patients, including a serial killer known as the Sculptor who went missing after the asylum closed. The Sculptor posed his victims, over 12 in number, like statues.
Soon after, strange things begin happening. Dan begins receiving strange and cryptic messages.  Students are found dead, their bodies posed like statues.  Dan and Abby do a bit of investigating on their own and uncover pretty horrifying news about their families' past tying them to the former asylum. It seems, though, as they get closer to uncovering the truth, the more their lives are in danger. Have the ghosts of the asylum come back to haunt them, or is something more deadly amiss?
I picked up a copy of Asylum shortly after it was released early this fall, instantly drawn to the haunting cover. As I paged through the book, I knew this would be a perfect title to feature as part of Murders, Monsters & Mayhem.  While the plot itself is pretty predictable, the photographs and overall tone of the book gave me goosebumps. It's been nearly a week since I read this and I cannot get over the photographs.  Knowing that these pictures are from actual asylums added a completely new chill factor!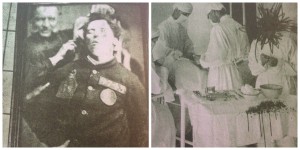 Looking for a book that will send chills down your spine? Pick up a copy of this book. I guarantee you will not regret (or forget) it! Highly recommended!