Ahhh…yet another Thankfully Reading Weekend comes to a close, I'm truly thankful for the bookish community, specifically my partner-in-crime, Jennifer from The Literate Housewife. This annual event couldn't happen without you all!
So….I didn't get a lot of reading done yesterday. We did a bit to celebrate Small Business Saturday. Then this happened as we were leaving my favorite indie bookstore, One More Page Books in Arlington, VA.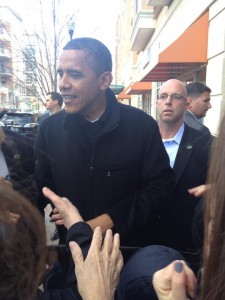 Yep, that's him. President Obama. His daughters joined him for a bit of early Christmas shopping at One More Page books, minutes after we left. While we weren't in the store for his visit, we did get a chance to shake his hand. My boys and husband were with me and we were all star struck. Needless to say, the rest of the day was lost. After posting pictures on Facebook and Twitter, friends & family from all over started calling, asking about our encounter.
That said, Sunday is traditionally my day of rest so I intend on getting a substantial amount of reading accomplished. I've focused a great deal on cozy mysteries I plan on spotlighting for the Cozy Mystery feature I'll be hosting in early December. So many good cozies, so little time.
As you wrap up your own reading, I do encourage you to do a wrap-up post of sorts, summarizing the books you read, etc. If you do happen to do such a post, please link it up below or summarize in the comments.
Since we still have quite a stack of giveaway books available, I will be picking random people who have participated via Twitter, here on the blog (via comments & link-ups). The list of winning books are below. Once the book has been spoken for, I will strike it from the list.
Also, Jennifer & I will be contacting the challenge winners directly to claim their prizes.  We'll wait until early in the week to do so in the event that any late-comers still want to enter. Just as a reminder, the challenges are:
Day One: What is Your Reading Recipe (win a hand-crocheted eReader cover!)
Day Two: What Book Are You Most Thankful For? (win copies of Brain on Fire,  Man in the Blue Moon and The Trial of Fallen Angels)
Day Three: Share Your Favorite Bookish Tradition/Memory  (win a $25 gift certificate to Novel Places Books)
So, enjoy the last several hours of Thankfully Reading Weekend. Thank you once again to all who participated!
Book Prizes:
 If You Find Me by Emily Murdoch (ARC)
The Great Unexpected by Sharon Creech (finished hardcover)
Do You See Me by Karen Rose (ARC)
Force Out by Tim Green (ARC)
Code: A Virals Novel by Kathy and Brendan Reichs (ARC)
A Fatal Winter by G.M. Malliet (finished hardcover)
Resurrection Express by Stephen Romano (finished hardcover)
Riding the Bullet (original novella) by Stephen King. Includes screenplay written by Mick Garris. A must-have for any King fan! (finished hardcover)
Link up your wrap up posts here: