Reading level: Ages 9 and up
Paperback: 192 pages
Publisher: Sourcebooks Jabberwocky (May 1, 2012)
ISBN-10: 140226612X
Source: Publisher
With Halloween just around the corner and weekend sleepovers are being planned, the topics of ghost stories and the supernatural are certain to be raised. The Girls' Ghost Hunting Guide is a must-have item for any teen or pre-teen's sleepover preparedness kit!
Starting with information about the existence of spirits, the science behind ghosts, The Girls' Ghost Hunting Guide is a witty and entertaining novel chock-full of information.  It provides tips for fans of the supernatural of all levels. Interested in writing a ghost story? Graham provides excellent tips and an outline for doing so. For extreme fans of the supernatural and ghost-hunting, she provides tips on forming a ghost-hunting team from the sort of individuals and roles that should be included to designing your ghost hunting team logo.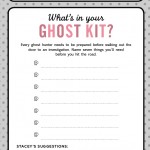 Interspersed throughout the novel are stories of urban legends and interviews with actual female ghost hunters to get readers in the supernatural mood. Fun recipes, quizzes, and more round out the fun. While obviously targeted for girls, I think this is certainly a book that would appeal to boys (if they can get over the pink cover & cutesy ghost).
Bottom line: The Girls' Ghost Hunting Guide is a must-have addition to the library of any young middle-grade or teen. Highly recommended.