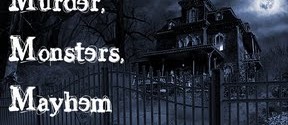 It's a very rainy morning here at Murder, Monsters & Mayhem HQ here in Northern VA.  We're bracing for Hurricane Sandy (Frankenstorm!) scheduled to hit land later today.  Not to worry, we're supposed to get a lot of rain & high winds so we should be fairly safe! We have all the requisite storm supplies like bread, water, batteries, flashlights, etc. Cross your fingers!
Now, back to business.  Realizing that not everyone has a blog or reviews horror, thriller or suspense, I wanted to create at giveaway that is open to everyone. Halloween is my favorite holiday (after Christmas of course) so I want everyone to be able to enjoy and celebrate in it.
So, I've created a list of topics that you can either write about in the comments below or in a blog post, Facebook status message, tweet, etc. Again, these are just suggestions, so if another topic inspires you, go for it!  Only rule is that they must be posted/linked/mentioned below by midnight on Halloween, October 31st. Due to Hurricane/Super Storm Sandy, the deadline for entries has been extended to midnight on Sunday, 11/4. Contest open worldwide!

The topics:
Post a picture/write about your favorite Halloween costume from your childhood (ok, fine! A costume from your adulthood counts as well!)
Write about an urban legend your area is known for. Jersey Devil, Mothman, or something similar? Go for it. Heck, if you have the creativity to make one up of your own, go for it
Write about your favorite Halloween book/movie
Post pictures of your Halloween decorations! The more creative, the better!
Did you go camping as a child? Tell ghost stores around the campfire? Share with  us your favorite!
Experience a ghost/haunting of your own? Have a spooky ghost story to share?
The prizes!
Two winners will be chosen and will in turn be able to pick from the two prize packs below:
Prize pack #1: Compliments of Harper Teen, this pack includes the following titles:
Dark Eden by Patrick Carman & Patrick Arrasmith
Dark Eden: Eve of Destruction by Patrick Carman & Patrick Arrasmith
Feedback by Robison Wells
Something Strange & Deadly by Susan Dennard
Prize Pack #2, Compliments of Blackstone Audio:
V Wars, a compilation of stories from Jonathan Maberry, Nancy Holder, Yvonne Navarro, James A. Moore, Gregory Frost, John Everson, Keith R.A. DeCandido, and Scott Nicholson
Tales from the Fire Zone by Jonathan Maberry
Hungry Tales by Jonathan Maberry
So get those creative juices flowing! Post your responses in the comments below or include a link to your blog post/Facebook status/Twitter tweet with your submission! Good luck to all who dare to enter! Muuwahahahaa!