I'm pleased to welcome Alma Katsu to the blog today. Alma is the author of The Reckoning and The Taker, the first two books in a series. Fan of historical fiction, looking for the perfect dark historical to add to your October reading list? Below Alma presents some of her favorite dark historicals: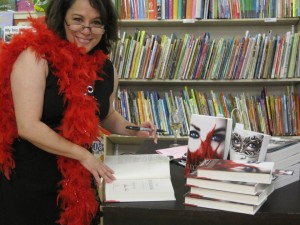 After my first novel, The Taker, was released, I received a number of queries from readers looking for similar books. The question is trickier than it seems, because both The Reckoning and The Taker combine a mix of elements—history, fantasy, the supernatural, love story—that is hard to find that same mix in other books. But I'll go out on a limb and assume that what most readers enjoyed about my novels is the combination of history and darkness, a combination that, I think, suits the Halloween time of year. If you enjoy novels that look at the grim realities of life in another era, I recommend the following:
The Dress Lodger by Sheri Holman. (2000) The title refers to the main character, a prostitute who is outfitted by her pimp in a fancy gown in order to attract a higher-level (and better paying) clientele. She's also the mother of a child with an abnormal heart, and is desperate to retain the service of a surgeon to save him, unawares that the doctor is beset by his own demons for past misdeeds. It's a marvelous story of sin and redemption, told in a singular voice. And there's grave robbing and plenty of grisly doings to put you in a spooky mood.
Slammerkin by Emma Donoghue. (2001) The NY Times said of Slammerkin, "Whatever it says about our level of enlightenment (and it's probably not good), little seems to tickle us more than the tale of an unscrupulous woman who will stop at nothing to secure the glittery trappings of a better life, only to meet a harsh comeuppance." Donoghue (author of last year's smash Room) wrote this tale of a young woman who, in the mid-1700s, becomes a prostitute to get away from her desperate life. Like most of Donoghue's work, it's a great piece of writing.
As Meat Loves Salt by Maria McCann. (2001) I recently finished this book, though I'd been meaning to for years. I'm going to borrow another reviewer's description: "a darkly erotic tale of passion and obsession, As Meat Loves Salt is a gripping portrait of Cromwellian England beset by war. It's also a moving portrait of a man on the brink of madness." An interesting character study, and you'd be hard pressed to find another novel quite like it.
The Crimson Petal and The White by Michel Faber. (2002) Faber's sweeping epic tale of Victorian England caused a huge stir when it came out. He combines the aspirations of Sugar, a young prostitute, to pull herself out of the gutter with the downfall of William, an egotistical perfume magnate, and William's brother Henry, a pious man who belongs to a Rescue society, trying to save the fallen like Sugar. Obviously, these three characters are meant to collide. This fat book is stuffed full of period details and deliciously constructed minor characters, and Faber juggles the multiple POVs expertly.
The Nature of Monsters by Clare Clark (2007) This novel starts off with some wonderfully sensual writing as Mary, a young girl admits that she has been erotically attracted to a man that she just realized she doesn't love. From there it becomes a dark Gothic tale of suspense as Mary, pregnant and luckless, is forced to take a hastily-arranged position with an apothecary, a mysterious and evil man who is interested in her pregnancy for unknown means. Eventually, Mary uncovers the true nature of her master's obsession and acts to save her unborn child and a half-wit maid also in the apothecary's employ. What this novel is really about is class struggle, darkly told.
The Quickening Maze by Adam Foulds. (2010) Three stories are entwined in this novel about ambition, madness, and redemption set in 1840 England. John Clare is the subject of one thread, an unschooled man who becomes a poet of some renown only to be sent to High Beach Asylum, suffering from delusions and alcoholism. The second thread belongs to the doctor who runs the asylum, suffering from his own failed aspirations and poised on the brink of ruin. The third thread follows poet Alfred Tennyson, who becomes ensnared in the doctor's wild schemes. The writing is breathtaking and makes this novel a standout.
Alma Katsu is the author of The Reckoning and The Taker (Gallery Books/Simon & Schuster), the first two books in a centuries-spanning trilogy of love, loss and redemption. The novels have been described as a mix of supernatural-powered fantasy, historical and dark romance, and frequently compared to the early works of Anne Rice and Elizabeth Kostova's The Historian. The Taker was selected by Booklist as a top ten debut novel of 2011. You can learn more about the books at http//www.almakatsu.com