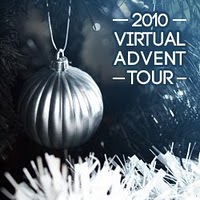 I'm so excited to be able to participate in the Virtual Advent tour again this year. Here's a bit of history about the tour: 
Kailana from The Written World and Marg from Adventures of an Intrepid Reader are hosting the tour for the fifth year.
The Virtual Advent tour first started when they pondered why should the kids get all the fun of opening a box on the advent calendar and finding a treat in there, and how could we have some blogging fun with a similar concept? And so the Virtual Advent Tour was created! 
Last year, I wrote about my favorite Christmas memory: when my husband John & I got married.  This year, I was planning on doing a review of a Christmas book, but changed my mind after having a discussion about the magic of Christmas with my eleven-year-old son, John. 
Many of John's friends no longer believe in Santa. This concept devastated John.  When he asked me if Santa was real, I told him the truth: Santa is part of the magic of Christmas.  This discussion made me think about just how magical this season is and I started creating in my mind a list of things I love about this season.  So…without further ado: 
1. SNOW! I can't help it, I love snow.  I lived the majority of my adolescence in the Chicago area.  You can't avoid snow there.  Snow makes me happy, it brings out the child in me.  And yes, I can still love snow, even after the Snowpocalypse that hit us last year! 
2. The coming together of family.  Family is of utmost importance to me.  I don't always get to see my family as often as I'd like, but I can be sure to be able to spend time with my family this time of year. 
3. Seeing Christmas through the eyes of my boys.  They are so excited about Christmas and not just because they get presents.  We all love to watch the classic Christmas movies together & read Christmas books every evening.  Christmas adds a sparkle to the eyes of all children, no matter the age. 
4. COOKIES!! Christmas cookies are a big deal in our house. It has become a tradition for the boys to bake Christmas cookies with my mother, a tradition that I hope continues for some time. 
5. Celebrating my anniversary with my husband.  This day that forever changed my world is celebrated during my favorite season of the year. I think it's very fitting!  When we got married I worried that our anniversary would be forgotten in the hustle & bustle of the season.  My husband, the amazing man he is, never lets that happen.  We plan a night out together every year, no matter how busy we are, to celebrate the life we have created together. 
So there you have it! The top 5 things I love about this season!  Be sure to check out the Virtual Advent Tour blog for posts throughout this month! Happy Holidays!