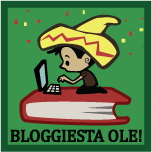 It's the beginning of the new year.  What a perfect time to do a little blog maintenance!  Natasha from Maw Books Blog is once again hosting Bloggiesta, your excuse to spend the entire weekend working on your blog (like you needed one!).
To assist you in improving the look of your blog, ten mini-challenges have been established:
Be sure to check out these great challenges. If you participate and comment, you will be eligible to win some great publisher-sponsored prizes!
I participated in Bloggiesta last year and, admittedly, came up with some pretty elaborate goals for the weekend.  I've learned my lesson this go round and come up with six fairly easy goals:
Clean up images: When I moved to self-hosting from my blogger blog, I lost a lot of images.  I'm going to go through all my old posts and fix the images.
Fix Formatting: Yet another thing that didn't transfer over well from Blogger was the formatting.  Several posts have wonky spacing, etc. that needs to be corrected.  So, while I go through all my old posts to fix the pictures, I will fix the alignment as well.
Write Reviews: We're barely in to 2010 and I'm already behind on my reviews.  I plan to write at least five this weekend.
Reply to Comments: I love it when my followers leave comments! I did have a process of going through posts weekly and responding to comments, but this process has fallen by the wayside! 
Launch Tales of a (Former) Reluctant Reader: This is my ten-year-old son's new feature in which he, as a former reluctant reader, will spotlight books that got him excited about reading.  I still (HELP!) need a button for this feature and need to schedule the posts, but I'm really looking forward to this project!
Clean up Google Reader: I can admit that I'm subscribed to way too many blogs.  I can't remember the last time I cleared my reader down to zero (without marking all as read).  So, it's time to unsubscribe to those blogs I don't really follow anymore.
Sound easy enough?  I hope so, because I also have to take down the Christmas tree and do all sorts of work around the house!