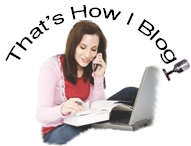 Nicole from Linus's Blanket hosts an amazing Blog Talk Radio Show called "That's How I Blog", during which she chats with various bloggers about their lives, how they blog, their favorite books, etc.   She's chatted with quite a few outstanding bloggers, including:
Trish, Hey Lady! Whatcha Readin'?
During the last portion of the show, Nicole and the blogger have a quick 20 minute book club and discuss a a book.  Tonight at 9 PM Eastern Time, Nicole will be chatting with book blogger extraordinaire Amy, from My Friend Amy.  Once the interview is over, they will chat about Shiver by Maggie Stiefvater.   Be sure to log-in to the very lively chat room or call in (646-381-4606) to ask your questions.
Next Tuesday at 8:30 PM Eastern Time, I will be chatting with Nicole about my blog!  Our book for discussion will be Shutter Island
by Dennis Lehane! There's still time for you to read the book and join in on our discussion!
If you have any questions to ask about me that you'd like to be asked during the call, you can send them to Nicole at: nicole AT linussblanket DOT com before the show!