First of all, a belated Happy Halloween to you all!  I intended to post yesterday, but with all the festivities I didn't have the opportunity.  Here are a few pictures of my boys right before we began trick-or-treating: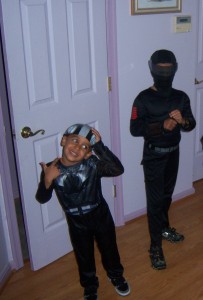 And here are pictures of all the candy obtained after almost three hours of trick-or-treating:
After he sorted his candy, John-John decided he wanted to pose for one more picture!
So that was our Halloween evening!
Ok, time to announce the winner of the Thunder and Blood Contest!
Grand Prize Winner (signed copy of Thunder and  Blood): Annarkie
Runners Up (signed Thunder and Blood bookmarks):
Ann
Terri
Winners, please email me with your mailing address at jennsbookshelfATgmailDOTcom.  Your winnings will be sent out by the end of next week.  I will wait 48 hours for a response.  If I do not hear from any of the winners, new ones will be announced.
Thanks to all who entered, and I hope you all had a Happy Halloween!