Harper Teen has recently relaunced their Pitch Black: Books With A Bite Web site, just in time for Halloween!  Find book recommendations based on your "type":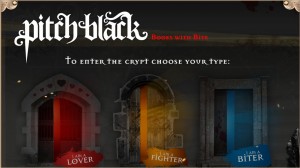 For you "Lovers" out there, Harper Teen suggests Claudia Grey's Evernight Series or Ellen Schreiber's Vampire Kisses series. 
For the Fighters, check out Diana Peterfreund's Rampant or Kelley Armstrong's Darkest Power series.
And finally, for you Biters out there, be sure to check out L.J. Smith's Vampire Diaries series!
And before you leave the site, be sure to check out the revamped Pimp My Coffin section.  You'll literally get sucked into decorating your very own customized coffin!
So, what are you waiting for!  Head over and check it out now!