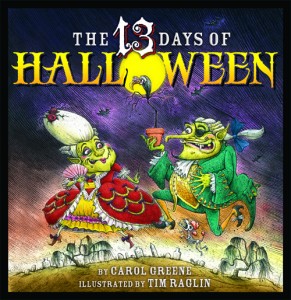 Reading level: Ages 4-8
Hardcover: 32 pages
Publisher: Sourcebooks
ISBN-10: 0816769656
Source: Publisher
Halloween is a popular holiday in our household, so when I was approached by Sourcebooks about reviewing a children's Halloween book I jumped at the opportunity!
Everyone is familiar with the Twelve Days of Christmas, right?  What about the Thirteen Days of Halloween?  In this hilarious story, a ghoul tries to win the heart of his beloved.  He does so by presenting her with a slew of outrageous and ghoulish gifts, including bats, cooked worms, and hissing cats.
My boys demanded to read this book as soon as we received it (back in the summer!).  They fell in love with the silly and lyrical language.   They loved counting down the days and  would both call out each gift as we went along.  They enjoyed screaming the first gift "A VULTURE IN A DEAD TREE!!!" The elaborate illustrations, done by Tim Raglin, were a perfect complement to the engaging text.  As we read along with the text, my boys made a game of finding each of the "gifts" in the illustrations.  We all had a great time guessing what the final gift was; the final consensus was "an ugly zombie!"  What can I say, they're my boys!  We all have an obsession with zombies!
This book will definitely be making a reappearance as we get closer to Halloween and a treasured book for years to come!  This is a must read for any ghoul this Halloween season!  Thank you to Sourcebooks for providing me a copy of this book for review.