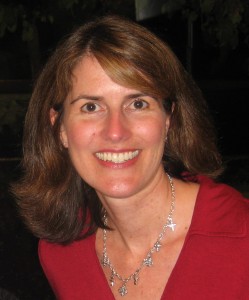 I can admit it.  I'm in denial that BBAW is over! I want to continue the blogger love and appreciation we all celebrated that week! Ok, now that I see that in print it does sound a bit cheesy.  Anyway, I'm very excited to have the opportunity to interview Dawn from She is Too Fond of Books.  I was lucky to have met Dawn at BEA this past May.  Unfortunately, we didn't get a chance to hang out as much as we would have liked, but that's something that will definitely change for BEA 2010!  Dawn also forced encouranged me to join the Game On Diet Challenge, and I'm forever thankful to her for that!  So, without further ado, my interview with Dawn!
Jenn: First, can you give a little background info about your blog (i.e. how long have you been blogging, etc)
Dawn: I started writing She is Too Fond of Books in May 2008.  We had an out-of-state move about a year earlier, moving not only the kids from their playmates and school chums, but moving me from Upsilamba the women's book group I had belonged to for seven years.  We discussed mostly nonfiction, and the group members ebbed and flowed over the years.  We had lively discussions, often agreed to disagree, and knew that, like Vegas, what happened in book group, stayed in book group!  I did start a book group in our new neighborhood, here, and it's still going strong, but we're a bit lighter in our conversations.  The blog is a way for me to explore a little more deeply my reactions to what I read, and to connect with others who might also be too fond.
Jenn: Describe your blog in five words.
Dawn: Honest. Personal. Varied. Family-friendly. Connections.
Jenn: What are the most memorable books you've read since blogging? Why?
Dawn: Oh good, I re-read the question … I thought you were looking for one book, and I wanted to write "impossible to choose one!".  OK, the most memorable books I've read in the past 18 months or so include Beat the Reaper (laugh out loud funny on audio, definitely R rated), Blame and Last Night in Montreal (literary fiction with themes that really make think … and stay with you), The Middle Place and The Center of the Universe (raw, honest memoirs), To the World of Men, Welcome and It's Beginning to Hurt (outstanding collections of short fiction).
Jenn: If you were stuck on an island, which five books would you like to have with you?
Dawn: Is this where I say that if I had a Sony e-reader with me, I could have hundreds of books at my disposal?  And Sony will be so pleased with the endorsement they'll send us each a comp unit to test-drive, review, and thus reduce the number of books overflowing the bookcases?  Oh, I probably won't have bookcases on the island ….  I'd have a blank book (a journal); a book of poetry (something huge, covering nursery rhymes to classics); an NIV study Bible (I've never read it through, so this would be as good a time as any to really dissect it); and since I'm on an island UltraSimple Boat Building would be handy.
Jenn: Most interesting/strange thing that has happened to you since creating your blog?
Dawn: I can't think of anything strange; I'm kind of a Pollyanna that way!  Tons of interesting things, though – going to BEA and meeting lots of other bloggers, feeling comfortable talking to my author idols, trying new things (new genres, new activities, Game On Diet), seeing life through blog-goggles, always looking for an angle.
Jenn: Name one book that has gone unrecognized so far and deserves more recognition.
Dawn: Islands of Divine Music by John Adieggo.  It's a series of linked short stories, telling the story of a family through several generations.  There's a bit of magical realism in it.  I've done a lot of primary source research on my own genealogy, and I'd love to write even one short story that gives a snapshot of an incident in an ancestor's life.
Jenn: Since blogging, have you been turned on to a type of book you haven't read before? (i.e graphic novel, non-fiction, etc.)
Dawn: I've read only one graphic novel (The Shiniest Jewel by Marian Henley), which I loved.  I'd definitely read more, just haven't added any more to my library yet.  I'm enjoying YA books, too, although I still struggle with reviewing them (an issue at my end, not the author's).  Oh, and short fiction; I'm reading more and more short story collections (and "novels in stories" or linked short stories).
Thank you, Dawn, for stopping by Jenn's Bookshelves!  Everyone, please check out my answers to Dawn's questions on her blog, She is Too Fond of Books!