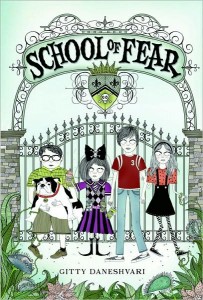 Hardcover: 352 pages
Reading level: Ages 9-12
Publisher: Little, Brown Young Readers
ISBN-10: 031603326X
ISBN-13: 978-0316033268
Madeleine Masterson is deathly afraid of bugs.  She walks around with a veil over her face to protect her from any bugs that might fall into her face or hair.  She carries a can a bug spray at all times and areas must be fumigated before she will enter. Theodore Bartholomew is afraid of death.  He contacts his family members several times throughout the day to make sure no harm has come to them. Lulu Punchalower is claustrophobic.  She'll make up any excuse possible to avoid elevators or any other confined space.  And finally, Garrison Feldman.  Garrison is the jock of the group. However, he is afraid of water.  The thought of entering a pool or, God-forbid, the ocean, terrifies him.
The parents of these four children are desperate for them to be cured of their phobias, so they turn them each over to Mrs. Wellington and her highly elusive School of Fear.  However, when the children arrive, the school isn't quite what they are expecting.  The exterior looks nothing like pristine campus pictured in the brochures.   And Mrs Wellington, former beauty queen extraordinare, has the most unusual teaching methods.
School of Fear
is an absolutely delightful read. I read it in a little over an hour during our trip to Williamsburg. There is no noticable violence or foul language, so I would easily recommend this to anyone in the 9-12 age range. I think children will enjoy the hilarious phobias definied at the beginning of each chapter (did you know there's a valid phobia for those afraid of peanut butter!?).   The author very vividly describes each of the main characters and their particular obsessions/fears.   I'll definitely be passing this on to my ten-year old. I'm sure he'll get an absolute kick out of it!