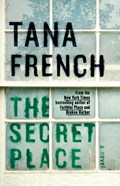 Series: Dublin Murder Squad
Hardcover: 464 pages
Publisher: Viking Adult (September 2, 2014)
ISBN: 9780670026326
Source: Publisher
One year ago, a boy was found murdered on the grounds of St. Kilda's School, a girl's boarding school outside of Dublin. Until now, little to no evidence existed regarding the killer.
The Secret Place is a bulletin board created for the girls of St. Kilda. Intended to be a place where the girls can pin up their secrets anonymously, it is now the site of the first piece of evidence in the stalled murder case. A picture of Chris Harper, the murdered boy,  was left anonymously, with the caption "I KNOW WHO KILLED HIM."
Detective Stephen Moran is eager to get involved in the Dublin Murder Squad. This new evidence gives him the opportunity to do so, alongside Detective Antoinette Conway. Together, they once again interview a group of girls who seem to have a connection to the case, including Holly Mackey, the daughter of Detective Frank Mackey.  This clique of girls – Selena, Becca, Julia and Holly – all have a connection to the murdered Chris Harper, in some cases unbeknownst to one another.  As Moran gets closer and closer to discovering the identity of the killer he is met with increasing resistance. St. Kilda's wants to protect it's own, keep any information surrounding the murder hidden from the public and Detective Mackey is ready to rebuke any evidence against his daughter.
Moran quickly learns of the danger surrounding teenage cliques. Willing to do anything to protect their own, even if it involves murder.
Tana French is, by far, one of my favorite authors of dark and gritty thriller. The Secret Place veers a bit from her "traditional" style. As many of the main characters are teenage girls, this latest book in the Dublin Murder Squad series definitely has a younger feel to it. That said, it still contains the dark and twisty murder mystery for which French is known. There's nothing young and innocent about these young women, characters who honestly sent chills down my spine.
Alternating between past and present, from days before Chris' death to the days that follow the discovery of his picture in The Secret Place, The Secret Place is rich with complex characters and a truly intriguing plot line.  French is skilled at weaving a dynamic character study in each of her thrillers, this one included. Readers genuinely get inside the minds of each of the characters, understanding their motives and actions with chilling detail. She examines the world of teenage girls, including all the angst, jealousy and rivalry that comes with the age.
What makes French stand above other writers in this genre is her ability to unleash intensity within the first few pages and carry it throughout the entire novel. Also unlike others, she doesn't traditionally present a perfect ending, instead unleashing a resolution so twisted and dark that it left me speechless.
While it is possible to pick up and read this series at any point, I really do encourage new readers to start at the beginning. While the protagonists are not the same in each of the books, characters do have reoccurring roles.  Reading the early books will add history and dimension to the members of the Dublin Murder Squad.
Bottom line: Tana French is a must-read thriller author. One of my favorites of all time. And, while The Secret Place exhibits some departures from her previous work, it is a truly tremendous and captivating thriller. Highly, highly recommended.