I received this book for free from the publisher in exchange for an honest review. This does not affect my opinion of the book or the content of my review.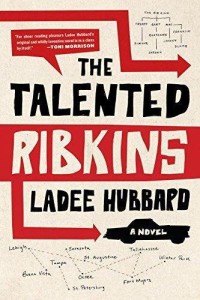 The Talented Ribkins by Ladee Hubbard
Published by Melville House Publishing on August 8, 2017
Genres: African American, Contemporary, Family Life, Fantasy, Fiction, General
Pages: 300
Format: Hardcover
Source: the publisher

Seventy-two year old Johnny Ribkins has one week to come up with the money he owes his mob boss. He spends this time retracing his past, digging up "treasures" he's buried along the way.

In their prime, the Ribkins family, bestowed with unusual super powers, used them to in the civil rights efforts. Johnny's power is his ability to draft a map of anywhere; whether or not he's been there or not.  This came in particularly useful to other African Americans as they traveled through the South.  It marked safe places to stop for gas, lodging and food.

Known as The Justice Committee, their group ultimately disbanded as their powers proved insufficient.  This didn't stop Johnny and his brother (whose power was to scale flat walls); they began robbing banks; each robbery more dangerous than the previous.

Fast forward several decades.  Johnny's traveling through Florida, his old stomping grounds, to retrieve items that may prove to be of worth. Though his brother is gone, Johnny  learns his niece, Eloise, has her own super-powers.  She joins him in a journey retracing his past, one in which she discovers the power of family and the unique gifts that bond them together.


What appears on the surface to be a quirky, light read is actually one full of depth and substance.  The journey Johnny takes with his niece serves dual purposes: for Johnny to uncover the treasurers he buried throughout his prime years and to share the Ribkins history with the youngest member, Eloise.
Each stop on their journey reveals another aspect of the past, another relative with a special power.  As Johnny's loot bag grows in size, so does Eloise's understanding of her father's past.  An unexpected result is that Johnny, still recovering from the loss of his brother, gains a better understanding of his own identity.
Hubbard has interwoven aspects of our nation's history and the struggle for racial equality into this wholly unique, incredibly heartwarming read.  It packs a punch you aren't expecting, leaving your heart swollen with love for this incredibly endearing family. Highly, highly recommended.
Thank you to TLC Book Tours for providing me the opportunity to take part in this tour.