I received this book for free from personal copy in exchange for an honest review. This does not affect my opinion of the book or the content of my review.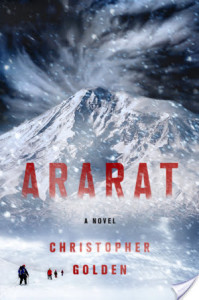 Ararat by Christopher Golden
Published by St. Martin's Press on April 18, 2017
Genres: Fiction, Horror, Supernatural, Thrillers
Pages: 320
Format: Hardcover
Source: personal copy

An earthquake on Mount Ararat in Turkey reveals a hidden chamber.  Upon exploration, a band of researches discover what they believe to be Noah's Ark, buried within the mountain itself.  A team of researchers, scholars, government officials and religious representatives quickly descend into the cave.

Beyond the remnants of the ark and it's passengers, they also discover a foreboding stowaway.  It is soon relevant they have discovered something far more than a religious relic, but an evil, dark and deadly, prisoner for centuries within the rubble, now free.
Christopher Golden excels at crafting the most chilling horror reads. I devoured his previous book, Snowblind, and this most recent novel shared the same fate.
Golden uses the setting, in both cases a frigid, treacherous blizzard, as a character within itself. In this case, a blizzard holds this team hostage in a cavern full of pure and murderous evil, but then also provides a cover for the killer, hiding evidence until it is too late.
Additionally, the characters the author crafts are completely flawed, thrown into this high-stress, deadly situation and forced to fend for themselves. This adds to the tension, fuels the evil that resides within the cavern.
Golden's horror novels are a slow burn…the embers start small but gain in intensity and strength.  Though over 300 pages, I read this in just one sitting.  I'm still amazed and it's been a week since I finished the read.  Golden is an author you'll want to add to your favorites list, guaranteed.  Highly, highly recommended.