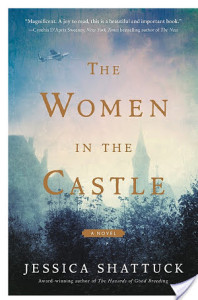 The Women in the Castle by Jessica Shattuck
Published by HarperCollins on March 28, 2017
Genres: Family Life, Fiction, Historical, Literary
Pages: 368

Marianne von Lingenfels is the widow of a man murdered after a failed attempt to assassinate Hitler in July of 1944.  Upholding her promise to those who conspired with her husband, she tracks down their wives, to provide them and their family a place of safety and refuge.  She brings them to a castle that can be traced back to her own past, a once grand stone fortress now nearly a ruin after years of war.

Among those rescued are Martin, the six-year old son of her childhood friend, from a Nazi reeducation home.  Following is his mother, Benita, who finds herself in the hands of Red Army soldiers.  Next are Ania and her two boys, refugees in on the many refugee camps.  Marianne hopes that their shared pain and loss will bring them all together.  Rather, secrets and complicated pasts actually do the reverse.  Each of them are forced to face decisions they made before, during, and post-war that have altered their lives forever if they are ever to successfully face the future.
What an incredibly remarkable and moving novel.  Shattuck revealed a bit of history completely unknown to me, and I suspect, many others.  She weaves rich historical detail with well developed characters, making the setting and the emotions the characters experienced so alive and genuine. It isn't difficult to become immersed in this book; you instantly form a connection with the characters, despite their past and the actions they took part in to survive.
Ultimately, each of the women are forced to ask themselves, and one another, the following question: Can you love someone despite their past actions?  Can you overlook the actions of war?  This questions more easily answered by some of the women than others, but definitely a theme that ran throughout the entirety of this book.
Overall, this is a timely novel of love, loss and recovery. It sheds light on what happened in Germany during the war from the inside, from the viewpoint of ordinary, average Germans, a viewpoint we often doing get to experience.  This will, without a doubt, make quite the perfect book for book club discussion, for though I read it over a week ago, my thoughts and feelings continue to simmer within me.  Highly, highly recommended.