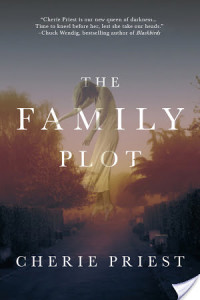 The Family Plot by Cherie Priest
Also by this author: Maplecroft
Published by Macmillan on September 20th 2016
Genres: Fantasy, Fiction, Gothic, Urban
Pages: 336
Format: Audiobook
Source: personal copy

Music City Salvage, owned by Chuck Dutton, thrives on stripping historic buildings and reselling what they've salvaged.  Business has been slow, so Chuck is thrilled when he gets a call from Augusta Withrow.  Her offer is risky but has the potential to be quite lucrative.  She's offering the entirety of her family estate, no questions asked, for a single price.  The price is hefty, but the potential for it to be a goldmine makes it worth the risk.

Chuck assigns his daughter, Dahlia, to oversee the project. Dahlia takes a small crew, a few trucks and some equipment and drives down to Chattanooga. Upon their arrival, they find the home, along with a barn and carriage house full of resellable fixtures and pieces.  It's in remarkably good shape, considering it's due to be demolished in a matter of days.

It's not long before they understand Augusta's desire to destroy the home.  Something very angry is in the home, something or someone tied to the family plot on the property.   An evil buried for decades, one that has one last chance to get revenge before the house is gone forever...
Already a fan of Priest's work, I was thrilled to see that she was writing a haunted house novel.  The moment I had an opening in my audio book schedule, I squeezed this one in. Boy, was it worth it!
Priest already excels at writing the dark and creepy. Something about this one, however, sent chills down my spine.  Could it be the fact that I listened to it, showcased by the stunning narration of Kate Udall (a new-to-me narrator).  There isn't a think about this novel I would change.
A fan of restoration shows on television, I had an instant connection before I even began to listen. It was much like my favorite salvage show, Salvage Dawgs. Having this familiarity made it easy for me to connect to the characters, to become engrossed in what transpired. Add to that Priest's truly talented writing and this is truly a gem of a listen.  The fact that my audiobook kept pausing itself at particularly chilling scenes added to the atmosphere of the read.  I most definitely blame this on my quirky phone rather than something form the beyond…or do I?
In any case,  whether you are a fan of Priest's writing or new to her work, I can't recommend this title enough. Highly, highly recommended.