I received this book for free from the publisher in exchange for an honest review. This does not affect my opinion of the book or the content of my review.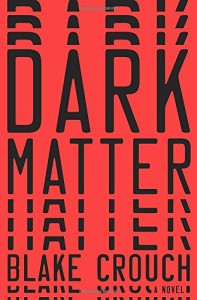 Dark Matter by Blake Crouch
Published by Crown Publishers on July 26, 2016
Genres: Science Fiction, Thriller
Pages: 352
Format: eARC
Source: the publisher

Jason Dessen, a quantum physicist, had a vast and successful future before him.  When his girlfriend gets pregnant, however, his life takes a bit of a detour. Now, he's a professor at a small college in Chicago. His wife is a talented artist, and the two of them live a comfortable life with their son, Charlie.

After a night out with his friends, Jason is kidnapped. He awakens on a gurney, surrounded by men in protective suits.  He has awakened into a new reality, in which he's a celebrated physicist who has managed to accomplish the impossible: inter-dimensional travel.  But the very thing he cherishes most, his family, is missing from this reality.

Desperate to return to that world, his world, he must confront the darkest part of his soul, willing to come to terms with whatever transpires.  His nemesis in this battle isn't a stranger, but himself.
Ever since I heard about Crouch writing another science fiction novel, my interest was piqued. I'm a longtime fan of his writing, long before the The Pines made its debut as Wayward Pines on television. Crouch is an incredibly talented writer, capable of creating alternate worlds that are simultaneously foreign yet frighteningly real and plausible.
This rings true for this most recent book.  In this case, he forces readers to think about the one thing, one choice, that defined their lives, forever altering the path our lives will follow.  Mine was quite similar to the main characters, a decision that, if I had to choose, I'd make it again.  Yet imagine a world in which alternate realities exist and that traveling between them is possible, albeit dangerous. Endless possible fates, attainable.  Mind blowing, really.
No exaggerating, I read this book in one sitting.  This is quite a feat considering my mind is in a million places right now.  It's completely mesmerizing, an incredibly engaging thriller with an intensity that never wanes. A wonderful combination of science fiction and thriller. Highly, highly recommended.