I received this book for free from the publisher in exchange for an honest review. This does not affect my opinion of the book or the content of my review.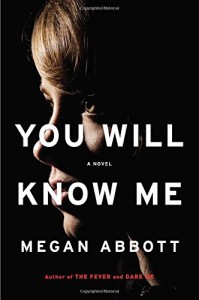 by Megan Abbott
Published by Brown & Company, Little Genres: Suspense, Thriller
Source: the publisher

Devon Knox is a gymnastics prodigy, an Olympics hopeful. Her parents will stop at nothing to see their daughter succeed.  When a violent death rocks their tight gymnast community, everyone is put on edge.  As rumors spread among the close-knit family, Devon's mother, Katie, desperately tries to keep her family together.  As secrets and lies begin to unravel, she's forced to ask herself if there is anything she wouldn't do to protect her family.
I'm warning you now, this is going to be another on of those vague reviews, largely because there is so much packed into this book that I feel the reader must uncover themselves.  Once again, Abbott manages to stump me in my attempt to uncover the identity of the individual responsible for murder, not once, but three times!
As with her previous thrillers, Abbott creates a community, a setting, so rich and dynamic that it's quite easy to imagine it in our own world. We know the type of people obsessed with their children's success, be it at gymnastics, football, lacrosse or soccer.  It's our responsibility as parents to stand by and support our children in their endeavors, but at what cost?  As a parent to two boys myself, I found myself questioning just how far I would go to guarantee a successful future for them.  Just what risks would I take? At what end is my child's future more important than the well-being of others.
Sure as you think about it on a large scale you make assumptions about "those parents" who are so aggressive in their passion about their child's success, their future.  But if you put yourself in their place, is it really that horrible? Is it out of control? It all starts out innocent but quickly escalates into an out of control situation.
Additionally, the characters Abbott creates are stunningly accurate and believable. She leaves you questioning each and every one of them, unsure of who to trust. This continues throughout the entirety of the book, forcing the reader to take sides, to put trust, into characters who don't necessarily deserve it.  When all is revealed, you'll be stunned silent, for this is the reaction I had when I read through the final pages. That's quite telling, for we all know how opinion and vocal I am about books.
All in all, this was an incredibly remarkable read, sending me on a journey wrought with strong and raw emotions. Highly, highly recommended.