I received this book for free from the publisher in exchange for an honest review. This does not affect my opinion of the book or the content of my review.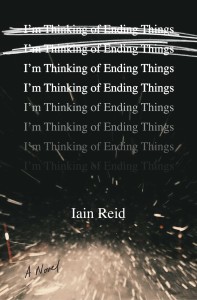 I'm Thinking of Ending Things by Iain Reid
Published by Gallery Books, Scout Press on June 14, 2016
Genres: Suspense, Thriller
Pages: 224
Format: eARC
Source: the publisher

A roadtrip in a snowstorm. The passengers are a young girl, known only as the girlfriend, and Jake, a young brilliant scientist.  Their route is remote; their destination is Jake's parents farmhouse.  Their relationship is rather new; she's already contemplating ending it. He's a philosophical thinker, speaks in abstract thoughts. It's one of the things that drew them together.

Through flashbacks, we learn of instances in the girlfriend's past that have changed her. From a man staring, then waving at her from her bedroom window to an unknown caller who leaves the same, strange messages.  These things have shaped her, yet she's reluctant to tell Jake about them.

Interspersed through the novel are excerpts of statements, chilling comments about a crime that has transpired. As the reader delves deeper into the story. they become even more terrifying. The reader knows something horrific has happened. The girlfriend is oblivious, just a passenger on this journey. Told with breathtakingly terrifying suspense, this short little debut novel is filled to the brim with terror.
I just finished reading this book in the wee hours of the night last night. Normally, it takes me a few days to process a review, yet in this case I needed to get this book out of my head. It's terrifying. Not in a gory, overly descriptive way but in a psychological way, the tension and terror building up until the final pages.  You know what though? It is brilliant and amazing and all of the other adjectives you can use to describe writing that is so expertly crafted.  I plan to go back to the beginning, to pull apart the intricate layers, to see what I missed in my attempt to get to the terrifying conclusion.
It's been some time since a character has terrified me like this one. Had I been reading at home, alone, I wouldn't have been able to finish. It is that absolutely chilling. Reid's style of writing, too, adds to the tension and fear. It's sparse, not complex. I wouldn't say simple, but just gives you enough to propel you along.  Then out of the blue, it seems, the reader is thrown into a completely terrifying scene. Had this been a movie I would have jumped and screamed.
Additionally, there is something about this book, about the way Reid writes, that leaves the reader feeling open and vulnerable.  I believe these are the words Michelle from That's What She Read used when she described her reading experience to me. Never could I have imagined how spot-on she was in this description.  The reader becomes an active participant in this journey, somehow more cognizant of what is about to transpire, more knowledgeable than the characters themselves.  This is more than a psychological thriller, this is psychological terror…and I loved every minute of it.  Highly, highly recommended.