I received this book for free from the publisher in exchange for an honest review. This does not affect my opinion of the book or the content of my review.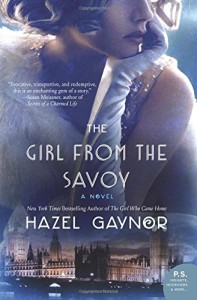 The Girl from the Savoy by Hazel Gaynor
Also by this author: Fall of Poppies: Stories of Love and the Great War
Published by William Morrow on June 7, 2016
Genres: Historical Fiction
Pages: 448
Format: Paperback
Source: the publisher

Dolly Lane is a new maid at London's finest hotel, The Savoy.  Though her life has been torn apart by the Great War, rather than succumb to the pain she uses it to propel and inspire her into working for a better life.

Her new place of employment puts her right in the middle of London's exhilarating theater scene. Challenged by her place in society, where she must remain invisible, Dolly dreams of a life of wealth and glamour.  When she responses to a musician's advertisement for a "muse," Dolly finds herself thrust into the world she so desired.  She meets Loretta May, renowned actress and her brother, Perry.  Though they have the life Dolly has craved for, it's obvious that fame and popularity don't guarantee happiness.

When given the chance to become part of this world, Dolly is forced to leave her previous life, and love, behind, demanding her to decide which is more important: fame and wealth or happiness and love.
The moment Hazel Gaynor pens a new book, I know I have to get my hands on it.  In this case, set during the Great War, Gaynor focuses on three characters, living parallel but vastly different lives.  Dolly is one of those individuals who strives hard to succeed despite her place in life.  She refuses to accept her position as permanent, not afraid to dream of the impossible.  Teddy Cooper his her boyfriend, forced to leave her to fight in the war.  His struggle is even more difficult, his experiences in the war leave him shell shocked, a battle ranging inside his mind even after the ground battle has ended. Loretta May is the actress who has everything Dolly could have dreamed of, yet it doesn't provide her with happiness.
These three characters, wholly unique, yet all three struggling to find the happiness that is just beyond reach.  They are developed in such a way that, though you only "met" them pages before, it as though they have been a part of your life forever.  They demand attention for various reasons, captivating the reader as they reveal the most intimate insecurities of their lives. Only the reader has access to their insecurities in life, for they each have developed a protective shell around what the hold most dear.
Gaynor excels at writing historical fiction.  She captures the setting, the characters, the nuances of the time period so expertly. I giggled at many references, learned quite a bit about the culture of the time. All in all, a well-rounded read.
I devoured this book, so captivating by the time period, the characters, the setting.  There isn't a thing I would change about this book (other than to prevent it from ending). I'm tempted to read it all over again, to immerse myself once again into the lives of these three profound individuals.  Highly, highly recommended.
Thank you to TLC Book Tours for providing me the opportunity to take part in this tour.