I received this book for free from the publisher in exchange for an honest review. This does not affect my opinion of the book or the content of my review.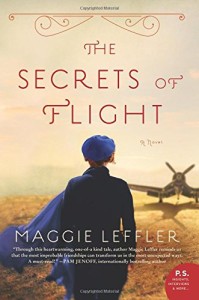 The Secrets of Flight by Maggie Leffler
Published by William Morrow on May 3, 2016
Genres: General Fiction, Historical Fiction
Pages: 368
Format: Paperback
Source: the publisher

Eighty-seven year old Mary Browning has been estranged from her family for most of her life.  She continues to look back on the secrets that altered her life, paving a new and different future. Her outlet is a writing group she's been a part of for ten years, despite never really contributing herself.

When a fifteen-year-old girl named Elyse joins the group, Mary is flooded with memories of her own sister, Sarah.  She's certain Elyse has entered her life for a reason, and asks the young girl to transcribe her life story.  Unknown to most, Mary served as a woman pilot, a fly-girl, during World War II. She left her family behind to pursue her dreams during a time when women were supposed to remain home or, at the very most, attend secretarial school.

The two form the most unlikely of connections. They need one another for support and comfort, for Elyse, at her young age, is battling many of the same struggles as Mary did at that age.  Together, they learn that life is full of second chances.
From the moment I read the premise of this book, I knew I had to read it. Through various other novels, I have learned of the multitude of ways women were called to duty while men fought in the war.  Unfortunately, many of these opportunities granted to them were only temporary and, until know, unknown to the world.
I truly enjoyed the connection that Mary and Elyse formed. Told in alternating points of view, we follow these women through the challenges they faced in pursuing their dreams. For Mary, she was expected to remain at home, get married, and be a homemaker. She struggles with her faith, for it too created obstacles in her success and, ultimately, in her relationship with her family.
Though Elyse has more opportunities, the demands her family place on her force her to lie about working with Elyse.  That said, as the novel progressed, I felt there were some connections that were forced and unnecessary, making the novel seem almost rushed near the end, fabricated instead of flowing naturally.
That said, I still gained a lot of knowledge from reading this title, and would still recommend it highly. As a matter of fact, the book club I lead will be discussing it in June. Despite it's flaws, it's rich with historical details that must be celebrated and brought to the attention of others.  Young girls need to have idols and mentors to look upon for guidance.  Seeing how women paved the way for additional opportunities to serve was not an easy task, one that we still struggle with today. Although the path to progress is long and arduous, the steps along the way are full of inspiration.
Thank you to TLC Book Tours for providing me the opportunity to take part in this tour.