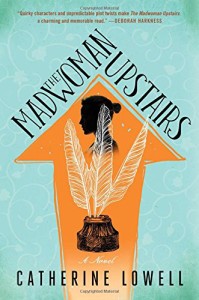 The Madwoman Upstairs by Catherine Lowell
Published by Blackstone Audio, Touchstone on March 1, 2016
Genres: General Fiction, Mystery
Format: Audiobook
Source: personal copy

Now that her father has passed, Samantha Whipple is the only remaining descendant of the Brontë family. Everyone assumes this means she now has claim to a wealth of Brontë releics, including paintings, letters, and early drawings.  Unfortunately, however, Samantha has never seen evidence of her alleged estate.  Her father, an eccentric man obsessed with his family's history, passed away unexpectedly, any secrets of an estate gone with him.

When Samantha enrolls at Oxford University, she's immediately confronted with her lineage and the mysteries that come along with it. Blasphemous as it may seem, she's actually not a fan of the Brontë sister's work.  To the dismay of her instructor, she is unable to grasp the phenomenon that has surrounded classic literature.

When objects belonging to her father, objects that should have perished in the fire that took his life, begin appear in in her room, Samantha finds herself in the middle of a scavenger hunt her father has crafted, it seems, from the grave. The only way to uncover the mystery, and her claim to the family estate, is to immerse herself in the writings of her ancestors.
I adored this audio!! I'm always anxious to read a book with connections to my favorite pieces of classic fiction. I gasped aloud when I heard of Samantha's disdain for the Brontë sisters, yet I rather understood where she was coming from. Growing up knowing you are related to such brilliantly talented writers must be quite overwhelming.
What I loved about this book was the tone of mystery, the clues her father left for her to discover, stepping stones on a path to embracing her lineage and, in fact, herself. Forced to reread the volumes her father believed she didn't appreciate helped Samantha understand herself more, awakening her passion for great literature.
Samantha is quite the spit-fire! She's headstrong, independent, unafraid to fight for what she believes in, even if that means uncovering secrets that will change the way we look at the renowned Brontë sisters.
She misses her father tremendously; he was her opposite, yet the dissimilarities in their identities and beliefs is what drew them together. Fulfilling this last wish, completing this last scavenger hunt, allows her to have a final adventure with her father, one that she needs so that she can learn how to follow her own identity, paving her way to the future.
The narration was spot on! Katie Koster captures Samantha so perfectly! She picks up on her snark, her hardheadedness, her vulnerability. She allow the listener to feel like they have an active role in this adventure.  I was genuinely sad when this listening experience came to an end. It was a delightful experience, one that I highly recommend.
Bottom line: This is a must read/listen for a wide variety of readers! It is full of mystery, of love of family, of romance. Something for everyone! Highly, highly recommended.