I received this book for free from the publisher in exchange for an honest review. This does not affect my opinion of the book or the content of my review.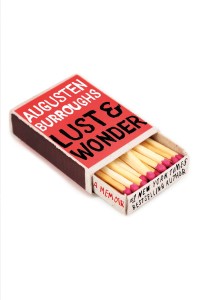 Lust & Wonder by Augusten Burroughs
Published by St. Martin's Press on March 29, 2016
Genres: Memoir
Pages: 304
Format: ARC
Source: the publisher

Many of us were first introduced to Augusten Burroughs when he penned his memoir, Running with Scissors, sharing brutal details of his childhood. He soon followed with Dry, a very revealing an honest glimpse of his struggles with alcoholism.  Now, he follows with this latest memoir, written in a brutally honest, often caustic manner, detailing his quest to find a lasting relationship that will make him feel whole. 
I squealed with joy when I learned Augusten was releasing a new memoir. I devoured both Running with Scissors and Dry, not shying away with the brutal manner in which the author details his life.  I began reading as soon as I had the review copy in my hands, thrilled to be "reunited" with this extremely talented man.  Sure, his brutal honesty can make it difficult to read at times, yet he doesn't sugarcoat or attempt to glamorize his life. Though many of us haven't experienced the devastating past that he has and can't sympathize with many of the trials and tribulations he is dealt, he allows us to see that we all are, in fact, human, complete with flaws and failures.
In this memoir, we follow Augusten through three serious relationships and his struggle to feel whole, complete.  With each one, he hopes to find that sort of peace and serenity one finds when they find "that" person.  Yet instead, he finds something lacking in nearly every one, until he uncovers that what he is looking for is right before him, the relationship he attempted to resist the the most.
With each memoir, we see a sense of growth and maturity in the author.  The dark and sometimes dry humor is still present, but not as…damaging(?!) as before.  He's heartfelt, genuinely reflecting upon his life and how his childhood and incidents in his upbringing have influenced his relationships.  He's moved beyond the fleeting relationships (well, mostly) and is desperate to find true and genuine love.
Full of laugh out loud humor, this is a book that you will want to read in one sitting. The first time I read it, I was up until 3 am, unable to put it down until I'd finished. Well-worth it, I felt a sense of completion in this long and treacherous journey with this author.  There was closure, fulfillment, and finally…happiness and true joy. I smiled so much my face ached as I read the final pages, so thrilled that this man, who had experienced so much, finally found happiness. A man gave him everything, a relationship rich with lust & wonder.
I do recommend that readers new to this author's work start at the beginning with Running with Scissors, followed by Dry.  Though you could probably pick up this most recent memoir without reading the previous, you will need the entire experience to get a true and all-encompassing glimpse of this man's life. If you haven't read this author's work before (and have ignored a large part of what I've said above), his memoirs are brutal, honest, revealing. Not for the feign of heart (or perhaps conservative of minds)?
I have nothing but praise for this memoir. I've read it twice already and cannot wait to read it again. Highly, highly recommended.