I received this book for free from the publisher in exchange for an honest review. This does not affect my opinion of the book or the content of my review.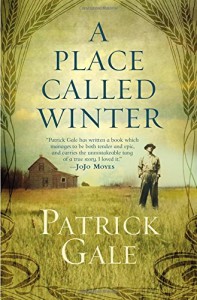 A Place Called Winter by Patrick Gale
Published by Grand Central Publishing on March 22, 2016
Genres: Historical Fiction
Pages: 384
Format: Paperback
Source: the publisher

Jack and Harry Crane are the only surviving members of the Crane family, after their often absent and quite distant father passes away.  The brothers now find themselves to be quite in demand as wealthy, desirable and eligible young bachelors. Close-knit, their personalities couldn't be any different.  Jack is outgoing and social, and follows his passion for the care of animals and becomes a veterinarian.  Harry, the eldest of the two and therefore responsible for administering the family legacy, is far more reserved.

Harry follows what is expected of him and marries and fathers a daughter.  Yet his world somehow feels empty, despite his life of leisure.  A night out on the town changes his world dramatically, and he finds himself involved in a relationship with another man. Despite their attempts to keep the relationship secret, one slip-up reveals all.  In an attempt to save the reputation of his wife and daughter, Harry agrees to leave them behind in London, giving up all to forge a new life on the undeveloped prairie of Canada.

The challenges of this new life begin during the journey, which is both physically and mentally tolling. A stranger to this new world, Harry carries the burden not only of his "banishment" but of the physical demands of creating a new homestead.
This novel took my breath away.  So beautifully written, incredibly captivating from the start, I quickly found myself immersed in Harry's journey.  This epic novel alternates between time periods, from Harry's youth and adulthood to years later, when Harry is a patient at a mental hospital.   Faced with endless challenges throughout his life, Harry struggles to balance what society expects of him and what he expects of himself.
The publisher's summary hints at this, but a large portion of Harry's turmoil revolves around his sexuality.  Though he did what he believe society expected (married, fathered a child), he couldn't banish or repress his sexuality. One can guess, but based on the time period, homosexuality was viewed as a mental illness, people who allowed themselves to "succumb" to these feelings were institutionalized.  Though he attempted to resist them, doing so would only deny himself of his true identity.  The struggles he faced in doing so were completely heartbreaking.
This is one of those epic novels that demands all your free time, completely captivating both your mind and your soul. Harry's journey is not only a physical one, but emotional and mental as well. It was heartbreaking to see how he was treated, realizing, horrified, that feelings about homosexuality haven't evolved that much over time. Society still often treats homosexuals as deviants, unable to have the same rights as heterosexuals.
While Harry's sexuality is a key aspect of this novel, it isn't the only theme. The exploration of Canada's vast land, at this point not yet settled, plays a key role as well.  The journey these early settlers took was demanding, many not surviving the isolation or drastic and severe weather conditions.  Hardships were a many, burdens weighed quite heavily on Harry's shoulders.
The inspiration for this novel came from Gale's own ancestry, a family mystery that plagued Patrick for a large portion of his life.  He became obsessed with uncovering the truth. You can read more about it here.
All in all, this is an incredibly tremendous novel that I won't soon forget. Highly, highly recommended.