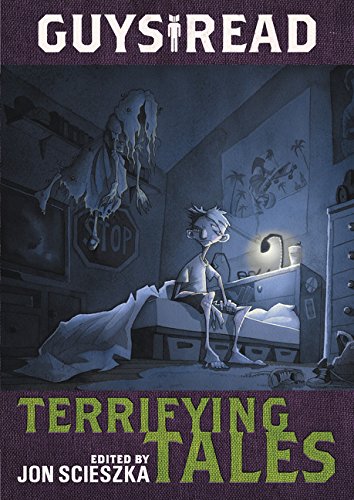 Guys Read: Terrifying Tales by Adam Gidwitz, Adele Griffin, Claire Legrand, Daniel Jose Older, Dav Pilkey, Jon Scieszka, Kelly Barnhill, Lisa Brown, Michael Buckley, Nikki Loftin, R.L. Stine, Rita Williams-Garcia
Series: Guys Read
Published by Walden Pond Press on September 1, 2015
Genres: Middle Grade
Pages: 288


Today I'm thrilled to welcome my ten-year-old son, Justin, as a guest reviewer.  Justin is my big reader; he devours as many books as he can get his hands on! I wonder where he gets that from? So…take it away, Justin!

Thanks, Mom! So, today I am going to talk to you all about a book I actually read over the summer (because that's when it came in the mail for me) but I decided to wait until now to talk about it because hello, it's Halloween!

This book is actually made up of a bunch of short stories by some pretty famous authors.  Instead of talking about all of them (because who would want me to do that, it would take forever!) I'm going to talk about my favorites!

Mr. Shocky by Michael Buckley: Ok, so whoever put this book together were smart; they put the scariest story first.  I've never had an imaginary friend, but this story is about imaginary friends.  But not normal (or whatever that is) imaginary friends. These are ones that become so attached and obsessed with you that they don't want you to grow up and forget about you.   And they aren't nice or fun, but really creepy monsters.

Licorice Needles by Nikki Loftin:  In this one, there is this kid who isn't doing very well in English class. So, his mom makes him go read with his neighbor, an old lady who doesn't have any friends or anything.  She feeds him this licorice candy and asks him to read things out loud.  She says it's to help him with his reading, but it's really weird things like ingredients on wrappers.  Then the things he starts to read out loud actually happen. You would think that would be cool but not in this case. It makes his friends go deaf or people die. Scary stuff!

The Blue-Bearded Bird Man by Adam Gidwitz: I think this one is set in another country or something. There is this guy who raises birds or something, called a fowler? Anyway, he gets this woman to marry him and says he'll take care of her (I think he has a lot of money) but she has to stay out of this one room (even though he gives her the key) and take care of an egg that he gives her.  When the first woman doesn't, not very nice things happen to her and he marries the next sister in line. It's a pretty weird story but I like what happens with the youngest sister (and what happens to the fowler) but I won't give it away.

Don't Eat the Baby by Kelly Barnhill: This boy really wants to have a little brother. He has a baby sister but really doesn't like her.  So, he goes to this well and makes a wish.  His wish is granted and he gets a younger brother who looks and dresses just like him. That's creepy enough for me, but it gets worse. He starts eating everything, including pets and people and stuff. Obviously that's not going to work, so this kid has to get rid of him before he eats his baby sister.

My Ghost Story by Dav Pilkey: Ok, this one is my favorite! Not because it's in comic format (but that helps) but the main character is kind of like me.  I love scary movies and stuff, but only at daytime.  At night I can't think about anything scary or I can't sleep!

Disappear! by R.L. Stine: My mom has been trying to get me to read R.L. Stine since I can remember, so it's kind of perfect that I discovered him in this book!  This boy gets a magic set and he becomes obsessed with magic tricks. He goes to a show and meets his favorite magician.  Unfortunately, this guy isn't very nice (he doesn't look anything like he did on stage), but that's ok, he gets what he deserves.   I thought this story was more funny than scary but thought it was a lot of fun! I think I'll try to read some more of his books.

So, my mom wanted me to say why (or if!) I would recommend this book.  I definitely would. It's not too scary, but a fun way to get a sample of a bunch of great authors.  We actually read this book out loud so that made it even more fun. So, yes, I would recommend this book. The short stories are a perfect and easy way to get into the Halloween spirit. Try reading them out loud. Somehow, that makes them scarier!